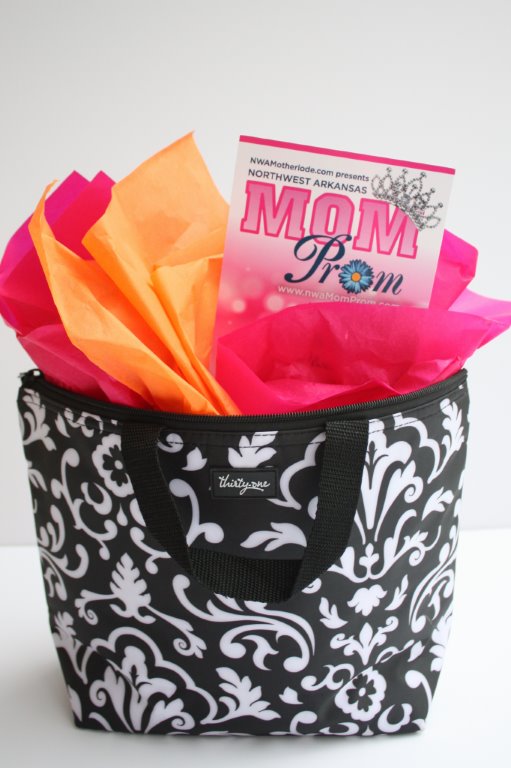 Want to help us plan the playlist for the NWA Mom Prom on May 4th?
You do? Fabulous!
We'll even reward you for helping. Share your favorite dance song for a chance to win a $25 iTunes (or Google Play) gift card!
Before we get to that portion of the post, we want to give you a little "sneak peek" of the swag bags we'll be giving away to the 300 ticket holders at the Mom Prom. Yes, you read that right and there are ONLY 300 tickets. We've already sold more than  1/3 of the tickets, so you seriously need to buy SOON (click here).

And you know what? The swag bag value exceeds the price of the ticket which is only $35 and is earmarked for our designated charity, Laundry Love.

The picture at the top is of one of the swag bags already stuffed with goodies. Want to take a look inside? Here's a little sneak peek:
Inside your Mom Prom Swag Bag (the actual bags are provided by Thirty-One Gifts Senior Consultant Amanda Shertzer and LOTS of other great reps around NWA who gathered bags for us) you'll find these items plus lots more:
Sephora makeup mirror & treats
$200 LifeStyle Dentistry Gift Card
Kiss Nails goodies
Fleet Feet Fayetteville coupon
World Gym 1-month free coupon
Rodan + Fields discount and free gift with purchase postcard (via Executive Consultant Peggy Pearson)

OK, on to the music and the giveaway!
HOW TO ENTER: We already have a few booty-shakin' songs to start with, based on some of your comments on a  previous Mom Prom Facebook post. Check out the song titles below, then click on the words "post a comment" at the bottom of this post and tell us which dance song you believe the DJ MUST PLAY at the prom. We'll share the list with DJ Frankie so he can bring along those songs to the Mom Prom.
Here are the prom playlist requests so far:
Cupid shuffle!!
love shack
Funky Cold Medina
Electric slide..
Umm anything by Sir Mix A Lot!!
Britney Spears!! ;)) don't judge- she was super popular my senior year! Lol
Drop it like its hot!
Anything by Usher or Lil John!
THRILLER!!!!
Bust a move!! Or You Can Do It by Ice Cube!!
I wanna rock and roll all night…..or ACDC…..lol
Rump shaker!
Gangman Style
Which song would make you run to the dance floor on Prom Night? Comment below for a chance to win the iTunes or Google Play gift card!