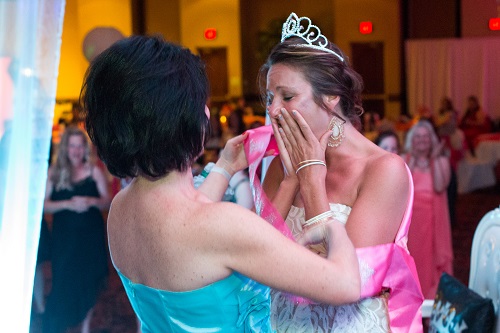 Did you have a happy Mother's Day?
We hope so!
We are positive it was happy for Marie Starr, the mama of three who was crowned the 2013 NWA Mom Prom Queen on May 4. She received TWO huge baskets of treats from local businesses to go along with the pink Prom Queen sash, sparkly tiara and beautiful bouquet of pink roses.
We recently interviewed the reigning queen about her new title, her family and whether or not she's planning to get her kitchen sink fixed with one of those gift certificates included in her prize package (her friends are really hoping she does!).
She graciously sent us some pictures wearing — or showing off — all of her amazing prizes!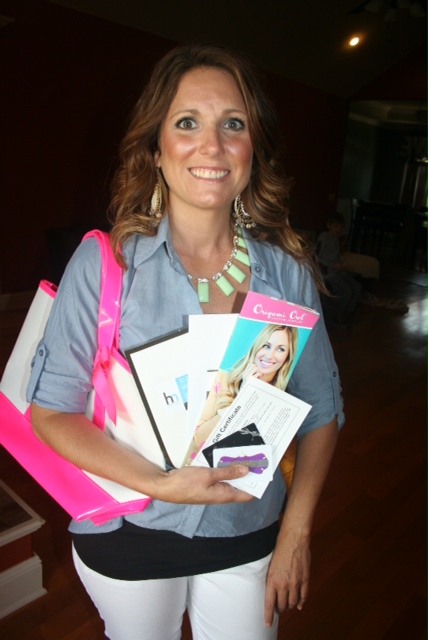 Q: What went through your mind when you heard over the microphone: "And the 2013 NWA Mom Prom Queen is … Marie Starr!"
When I heard my name I thought…Oh my gosh! Then I felt hands on my back pushing me towards the stage.
Q: Tell us about the ladies who came with you to the prom:
We commonly refer to ourselves as the 'Housewives of Quailridge'.  We are mostly transplants to Bentonville and were lucky enough to end up in the same neighborhood.  While we are made up of different personalities, we are bonded by motherhood. We have literally shed blood, sweat and tears together. We have shared everything from medical crises' and child care to celebrating birthdays and holidays together.
We have raised money to support each other's causes and even conquered cancer (Well, Nicole beat it but we had her back!). We definitely try make each other's mother load a little lighter 🙂
Q: What made you all want to attend?
Seriously, it is a PROM! We rarely pass up an excuse for a GNO but the fact that it was to benefit a great cause sealed the deal.
Q: How long did it take you to tear into your TWO gift baskets! What did you think of all the prizes?
I waited to open the gift baskets until Sunday. I knew my daughter would love it. Of course, she wanted everything! She wore me down and walked away with a few things.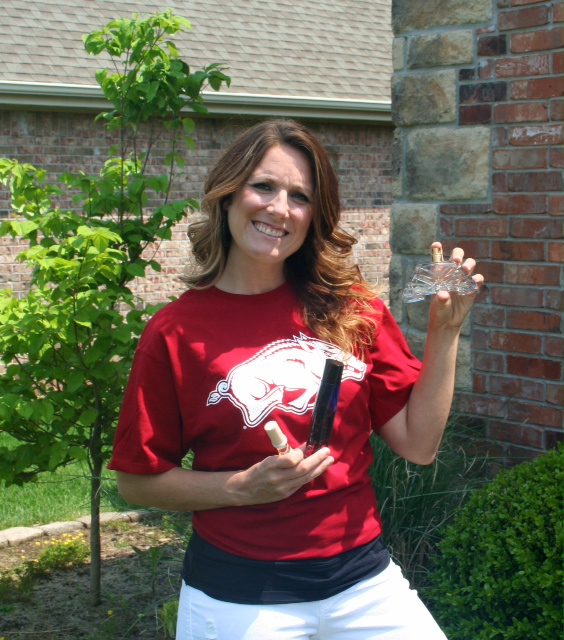 Q: OK, we have to know: Are you going to get your sink fixed with the handyman gift certificate? 🙂 
Ok so, this sink has become quite a joke around here.  It has been on my husband's honey-do-list for many, many months.  So, yes, I am so excited to use that handyman GC to install a new faucet ASAP.
Q: You mentioned at the Mom Prom that your husband was crowned Prom King at his high school prom. What did he think of your new Prom Queen title?
My husband was out of town but was made aware fairly quickly through text messages from the girls. He thought it was a riot and called me to congratulate me when I got home.  He wanted to know the whole story.
Q: Tell us about your three kiddos:
These 3 are the contents of my heart! Where to begin…well, I had my 3 kids all in 3 years. I was seriously mother-overloaded for a few years!!
Evan, 12, is a 6th grade at Ardis Ann Middle School. He is sweet and loves basketball. Evan was diagnosed with type 1 diabetes at age 5 and he is the reason we became involved in charities. JDRF is very near and dear to our hearts because their search for a cure.
Eden, 10, is a 4th grader at Elm Tree Elementary. Eden is a beautiful and caring little girl. She loves art and dancing.
Eli, 9, is a 3rd grader at Elm Tree Elementary. Eli was our little surprise! He is funny and passionate. Eli loves to tell stories and ride bikes.
Q: You mentioned that the kids immediately "de-throned" you. Ha! No special treatment for their queenly mama?
Oh no, there was no special treatment for this queen! I was awakened by complaints of a sore throat and a request for donuts. They absolutely refused to call me "your highness" and shut down my attempt to wear the tiara to Eli's baseball game. I even explained that it was my public duty! Duh!
Q: Did you wear your crown on Mother's Day? You can tell us!
I did. You simply cannot wear a "Prom Queen" sash without the tiara!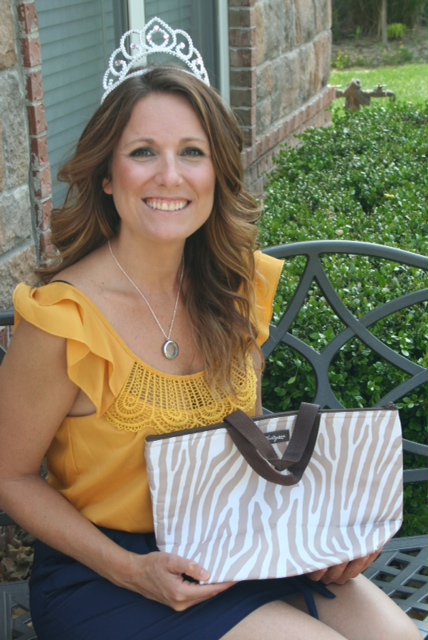 A HUGE thank you to the following businesses for giving Marie the royal treatment!
Spa Botanica at Embassy Suites NWA
Simple Spaces NWA
Origami Owl, local representative Tammy Zelinski
Razorback Shop at the NWA Mall