It's all about the pumpkin today! Happy Halloween to all and we hope you enjoy these pumpkin recipes from our friend, Ceri Wilkin, who recently launched her new food/cooking blog, Recipe Doodle!
For years Ceri has tried out one new recipe a day — and we have a few below as a Halloween treat. We're so glad she's started sharing her triumphs and tragedies (she promises not every recipe turns out as planned, but I've never tasted any fails) with the blogosphere. Go visit her site for inspiration and great pics!
BUTTERSCOTCH PUMPKIN MUFFINS
Ceri says, "I love the combination of pumpkin and butterscotch in these two recipes – and so do my children!! The cookie recipe comes from a wonderful lady, Susan, who ran a meal delivery business. Dinner to my door once a week was an absolute life saver when I had small children! I recently took the cookies to a play date, and they received many compliments. I didn't have time to cook the whole batch before leaving the house, so wrapped the remaining dough, popped it in the refrigerator, and cooked them up the next day – they turned out beautifully."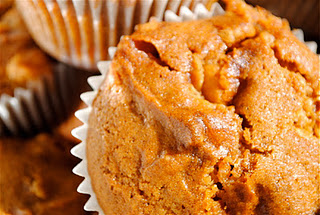 1 3/4 cups flour
1 teaspoon baking soda
1/2 teaspoon salt
1/2 teaspoon ground cinnamon
1/4 teaspoon ground ginger
1/4 teaspoon ground nutmeg
1 cup pumpkin puree
2 eggs
1/3 cup vegetable oil
1/2 cup granulated sugar
1/2 cup brown sugar, packed
1/2 teaspoon vanilla extract
3/4 cup butterscotch chips
Heat oven to 350F.
Coat muffin cups with nonstick spray or line with paper liners.
Sift together flour, baking soda, salt, cinnamon, ginger and nutmeg.
In a large mixing bowl, whisk together pumpkin, eggs, oil, granulated sugar, brown sugar and vanilla until well blended.
Gradually stir in flour mixture, then fold butterscotch chips into the batter.
Divide the batter evenly among prepared muffin cups, filling cups 2/3 full.
Bake 18 to 20 minutes, or until muffin tops spring back when touched lightly with a finger.
Cool in pan 5 minutes. Remove to wire rack and cool completely.
Enjoy!
PUMPKIN PIE
Ceri says, "My daughter's birthday was last week, and she requested pumpkin pie milkshakes, and a pumpkin pie for her birthday cake. I love this recipe because of the very subtle spiciness of the ginger and the white pepper, and because it is from a treasured cookbook that a friend gave me years ago."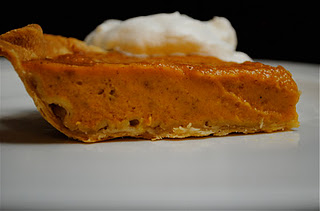 2 pie crusts
4 cups pumpkin puree
2 tablespoons crystallized ginger, very finely chopped
2 1/2 cups half-and-half
1 teaspoon ground cinnamon
1/2 teaspoon ground nutmeg
1/2 teaspoon ground cloves
1 teaspoon salt
1 1/3 cups brown sugar
6 large eggs, lightly beaten
4 large egg yolks, lightly beaten
1/4 teaspoon ground white pepper
sweetened whipped cream, for serving
Position a rack in the lower half of the oven, and heat oven to 425F.
Place 2 sheets of heavy-duty aluminum foil, one on top of the other, directly on the surface of each pie crust to weight it down. Bake the crusts until they turn golden brown, about 10 minutes. Remove the foil and bake 5 minutes more to crisp the crust slightly, then set them aside.
Reduce the oven temperature to 350F.
Place the pumpkin puree, ginger and half-and-half in a mixer and beat until smooth, about 4 minutes.
Mix in remaining ingredients (except the whipped cream) until well blended.
Pour the filling into the pie shells, dividing it evenly, and smooth the tops.
Bake until a knife inserted into the center of the pie comes out clean, 45 minutes to an hour.
Let cool on a wire rack to room temperature.
Serve dolloped with sweetened whipped cream.
Enjoy!
*Recipe adapted from Celebrate, Sheila Lukins, 2003
PUMPKIN PIE MILKSHAKE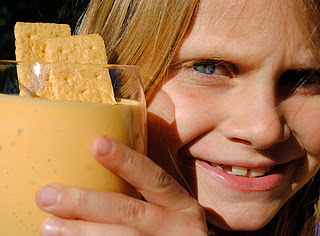 1 cup canned pumpkin pie mix
1 cup milk or half-and-half
1/2 teaspoon vanilla
4 cups vanilla ice cream
4 graham cracker squares
graham crackers and whipped cream for decoration
Combine pumpkin pie mix, milk and vanilla in a blender, blend until smooth.
Add ice-cream, blend until smooth.
Add graham cracker squares, pulse until small chunks remain.
Pour into glasses, garnish with graham cracker pieces and whipped cream if desired.
Enjoy!
*Recipe adapted from Halloween Food, Fun and Crafts 2011
More about Ceri: I am a wife, mother and recipe follower. For years I have tackled one new recipe a day – some are fabulous, some are not. In a past life I was an Occupational Therapist, Rugby and Netball player, Belly Dancer, lesson taker of golf, tennis and wine appreciation. My Husband owns Pizzerias, my Father was a butcher, my Mother a caterer, my older Brother makes the absolute best birthday cakes and desserts you will ever taste, my younger Brother owns restaurants in New Zealand and my kids love to eat.