We posted the recipe for these muffins about three years ago and it seemed like a great time to share them again with Halloween so close.
A yummy dessert to share with friends at a party — or to make for your little ghosts and goblins.
The dessert is from Ceri Wilkin over a the blog Recipe Doodle. Click here to go visit Ceri's blog! She recently revamped the site and it looks fabulous. She has lots of awesome recipes and she entertains a LOT so she's a great food blogger to follow for tips and tricks.
BUTTERSCOTCH PUMPKIN MUFFINS
Ceri says, "I love the combination of pumpkin and butterscotch in these two recipes – and so do my children!! The recipe comes from a wonderful lady, Susan, who ran a meal delivery business. Dinner to my door once a week was an absolute life saver when I had small children!

I recently took the muffins to a play date, and they received many compliments. I didn't have time to cook the whole batch before leaving the house, so wrapped the remaining dough, popped it in the refrigerator, and cooked them up the next day – they turned out beautifully."
1 3/4 cups flour
1 teaspoon baking soda
1/2 teaspoon salt
1/2 teaspoon ground cinnamon
1/4 teaspoon ground ginger
1/4 teaspoon ground nutmeg
1 cup pumpkin puree
2 eggs
1/3 cup vegetable oil
1/2 cup granulated sugar
1/2 cup brown sugar, packed
1/2 teaspoon vanilla extract
3/4 cup butterscotch chips
Heat oven to 350F.
Coat muffin cups with nonstick spray or line with paper liners.
Sift together flour, baking soda, salt, cinnamon, ginger and nutmeg.
In a large mixing bowl, whisk together pumpkin, eggs, oil, granulated sugar, brown sugar and vanilla until well blended.
Gradually stir in flour mixture, then fold butterscotch chips into the batter.
Divide the batter evenly among prepared muffin cups, filling cups 2/3 full.
Bake 18 to 20 minutes, or until muffin tops spring back when touched lightly with a finger.
Cool in pan 5 minutes. Remove to wire rack and cool completely.
Enjoy!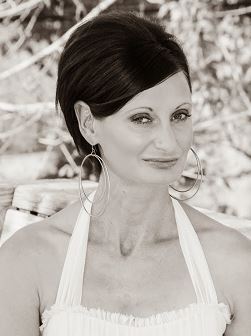 More about Ceri: I am a wife, mother and recipe follower. For years I have tackled one new recipe a day – some are fabulous, some are not. In a past life I was an Occupational Therapist, Rugby and Netball player, Belly Dancer, lesson taker of golf, tennis and wine appreciation. My Husband owns Pizzerias, my Father was a butcher, my Mother a caterer, my older Brother makes the absolute best birthday cakes and desserts you will ever taste, my younger Brother owns restaurants in New Zealand and my kids love to eat. Click here to visit Ceri's blog, Recipe Doodle.