Guest post by Jamie Claire of The Sparkle Kitchen
I've been married for almost five months now.
I thought for sure by this point in my marriage that I would have fine-tuned the art of husband-feeding. But alas, our pantry still looks like two people who would never run into each other at the grocery store.
Husband's food is almost entirely pre-packaged (a leftover, so to speak, from his bachelor days). He insists on keeping breakfast toaster pastries, frozen pizzas, and chocolate sandwich cookies on hand at all times. As for me, I keep the fridge stocked with sweet potatoes, kale, duck fat, and chorizo. I can find a way to incorporate sweet potatoes and coconut milk into anything. Try me.
While our grocery lists may not overlap, we do tend to see each other at the dinner table. To keep things from being, you know, awkward, we've both learned to do a lot of giving. My husband may not have gravitated to the pumpkin curry when we started dating, but he loves the stuff now. And he can even pronounce quinoa. And I thought that I had transcended simple snack foods until he started making me homemade popcorn that could bring tears to Mark Bittman's eyes. Tears. It's. So. Good.
We both get so much joy from serving each other meals that are new to us or from showing us new ways to enjoy foods we already know and love.
This recipe incorporates the third love of my husband's life (behind me, and in first place his American Brittany Spaniel, Ketch): chocolate sandwich cookies. To paraphrase the great philosopher Ron Swanson, it's his first favorite food (chocolate sandwich cookies) inside his second favorite food (chocolate chip cookies).
I served these as both cookies and bars to some of our friends at a game night this past weekend and we were very pleased.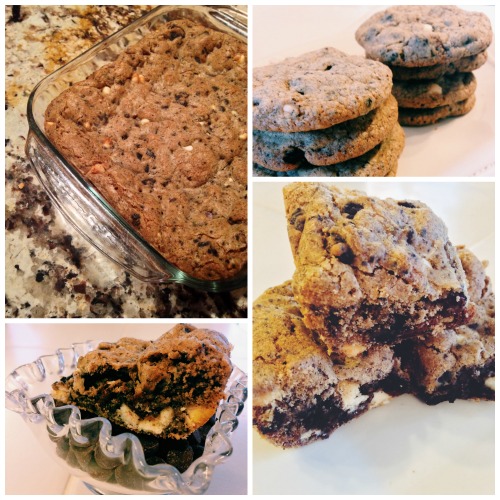 I'm more of a cookie dough person, so I love cookie bars that are soft and gooey in the middle. And I'm going to come clean here and let all of the like-minded cookie dough fiends out there know that this cookie dough is amazing.
The chocolate sandwich cookies add some serious crunch. Not that you should eat cookie dough. You totally shouldn't. Husband likes his food cooked (lame), so he prefers the slight crunch of the cookie format.
These cookies (or bars) are fantastic with a big scoop (or two) of ice cream, milk, or sandwiched together with buttercream. You won't go wrong. Now, if only I could find a way to add sweet potato…
Double Cookie Chocolate Chip Cookies
Yields 3 dozen cookies or 16-20 cookie bars
You will need:
2 sticks unsalted butter, softened
1/3 cup white sugar
1 2/3 cups brown sugar
2 large eggs
2 1/2 tsp. vanilla extract
2 1/4 cups all-purpose flour
1/2 tsp. coarsely ground sea salt
1 tsp. baking soda
1 1/2 tsp. baking powder
2 tsp. ground cinnamon
20 chocolate sandwich cookies, crumbled
1 cup white chocolate chips
1 cup semi-sweet chocolate chips
Method:
Preheat the oven to 350. Grease a 9×13 baking dish or a baking sheet.
In a large bowl, combine baking soda, baking powder, salt, flour, and cinnamon. Set aside.
In a large bowl, mix together butter, sugars, and vanilla for a couple of minutes, until creamy.
Add eggs, one at a time, and continue to stir.
Gradually incorporate flour mixture (about 1/3 of the mixture at a time).
Add crumbled chocolate sandwich cookies and chocolate chips last. Mix until evenly distributed.
For cookie bars: pat dough into prepared baking dish and bake for ~25 minutes, until a toothpick inserted in the center comes out clean.
For cookies: bake for 12 minutes.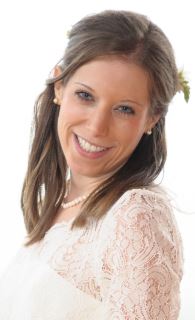 Jamie Claire Kiser is a Fayetteville native who lives in Bentonville. She's a retired lawyer who now works in banking. Jamie Claire and her husband Zach are proud Humane Society foster parents and are full-time owners to two dogs of their own. You can find more of Jamie Claire's recipes (and a ridiculous assortment of dog pictures) here.