Are you interested in learning more about where your food comes from? How far it traveled to make it to your local grocery store's shelf?
Well, Ozark Natural Foods has scheduled a tour so you can meet your local farmers and find out the answers to those questions as well as to learn what sort of processes the food went through to grow, and more about the people are who grew it.
At Ozark Natural Foods, they focus on having great relationships with local farmers. ONF supports over 70 local farmers/vendors and carry over 200 local products throughout the year.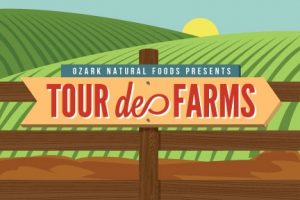 Because of these partnerships, ONF is able to host the first annual Ozark Natural Foods' Tour de Farm, a weekend where our owners and the community of Northwest Arkansas can visit nine local farms, meet the farmers, view different demonstrations at each site, taste products grown on the farm and literally tour de farm!
Many of the ONF customers place a premium value on being able to buy local produce and this is a way to connect people more closely with local producers.
The tours will take place on Saturday and Sunday, May 17 & 18. Each farm will be open for two hours and the visits will include a tour, demonstration, snacks, and a time for questions and discussion. You can visit as many farms as you would like.
Tour de Farms is a free event but anyone wanting to participate will need to register by May 3rd at the Owner Services Desk inside the Co-op.
Below is a list of the farms and the schedule for the tours. But first, a recipe from Pauline at ONF:
Mandarin Orange Arugula Salad
1 bunch arugula, rinsed and torn or cut into bite sized pieces
2 mandarin oranges
1/3 cup chopped walnuts
½ red onion, thinly sliced
Blue cheese crumbles
½ cucumber, halved and thinly sliced
2 tbsp olive oil
1 tbsp balsamic vinegar
1 tbsp red wine vinegar
salt & freshly ground black pepper, to taste
Directions: First mix the vinegars, olive oil and a little salt together and let it marinate with the cucumbers and onions slices for about 10 minutes. I sometimes also like to add a squeeze of lemon juice here. Next toss with the arugula and top with the walnuts, blue cheese, and mandarin orange slices. Serve for a great spring salad. And now is the perfect time to try this as the fresh mandarin oranges are in their peak flavor.
Now, the list of tours:
Saturday, May 17th
 9:00-11:00am: Herbal Simplicity with Bean Mountain Farms 317 E. Huntsville Rd, Fayetteville Learn about herb gardening and cold frame construction.
 10:00am-12:00pm: Harmony Gardens 8779 W Forest Hills Dr, Fayetteville Learn about structured water, paramagnetic rock, and brix nutrition.
1:00pm-3:00pm: Tri-Cycle Farm 1691 N. Garland Ave, Fayetteville Learn about composting, container gardening, soldier flies and chemical-free community farming.
4:00pm-6:00pm: Ozark Alternatives Learn about straw-bale greenhouses, community supported agriculture, hoop houses and four season farming.
Time to be announced: White River Creamery 11701 Arkansas 16, Elkins Learn about dairy goats and fresh cheeses.
Sunday, May 18th
9:00am-11:00am: Across the Creek Farm 3106 W. Pear Lane, Greenland Learn about pasture poultry.
9:00am-11:00am: Cobblestone Farm 5298-5526 W Wedington Dr, Fayetteville Learn about their farm-to-school program.
11:30am-1:30pm: Ansel's Produce Pear Lane, Greenland Learn about starting a farm and the next generation of farmers.
1:00pm-3:00pm: Ames Orchard 18292 Wildlife Rd, Fayetteville Learn about backyard fruit production.
Each participant will need to pick up their Tour de Farm passport the week of the event, which will include a map and a place where you can get stamped when you visit a farm. After you're done with your tour, you will be able to turn in the passport at the Co-op. People who visit at least five of the farms will be entered to win a $100 shopping spree, and the person who visits the most farms will win a $150 farm and gardening kit with tools, seeds, soil amendments and other goodies.
About our Sponsor, Ozark Natural Foods: Ozark Natural Foods is a locally owned consumer cooperative dedicated to healthful living and sustainability by providing our owners and the Northwest Arkansas community with natural and organic products and related services, located at 1554 N. College Ave., in the Evelyn Hills Shopping Center.