Mamas, I'm not sure where this recipe originally came from but I do know it's GOOD and it's crazy easy. I got it years ago from my friend Amy who said it was one of her "go-to" quick dinner recipes.
I made it the other day and my 12-year-old son, who usually hates all things green, said it was one of his new favorites. Yay!
Here's what you'll need:
Box of bowtie pasta (I like the miniature farfalle)
1 small box of frozen chopped spinach (I use the Green Giant brand.)
1 jar of Classico Sun-dried Tomato Alfredo sauce
1 can of petite diced tomatoes (You can also used diced tomatoes with Italian seasoning)
Directions:
Cook the pasta according to directions on the box. Microwave the frozen chopped spinach according to package directions and then drain it really well. (Spend an extra minute or two draining the spinach. You don't want spinach juice in your sauce.)
Pour the Classico Sun-dried Tomato Alfredo sauce into a sauce pan and simmer. Add the can of tomatoes and then add the drained spinach. (I use half of the spinach, but you could use the whole thing if your family loves it.) Mix well.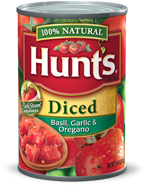 Add a little basil, oregano and garlic seasoning to the sauce pan. I use a couple of dashes of each spice. (If you use canned tomatoes that already have Italian seasoning included, you might not need to add any extra.)
Warm the sauce mixture until heated through. Serve over warm bowtie pasta and garnish with Parmesan cheese. (You could easily add some grilled chicken to this dish, if you like.)
The whole thing takes less than half an hour, and the results are delicious. Hope you enjoy it!