Hey, mamas! We wanted you to know that there are a few new open play times at JumpZone beginning in November. In November, they'll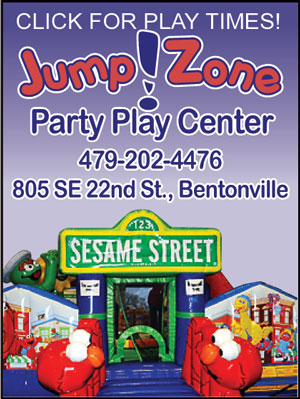 offer Open Play from 5 p.m. to 8 p.m. on Saturdays, which might be a good Saturday night "family date" and a great way for the kids to burn off some extra energy during the weekend.
Also, there has been one change regarding planned birthday parties at JumpZone. For anyone booking a full-price party, the package will now include one slice of pizza and one drink per child, so that should save you a little $$$.
Here are the times you can attend Open Play in November:
Sundays: Open play from 4 to 8 p.m.
Mondays and Tuesdays: Closed for cleaning!
Wednesdays: 10 a.m. to 1 p.m.
Thursdays: 5 p.m. to 8 p.m.
Fridays: 10 a.m. to 1 p.m.; and 5 p.m. to 9 p.m.
Saturdays: Open play from 5 p.m. to 8 p.m.
The open play rate is $8 per child, and parents are always free. Don't forget to wear socks!
Click here or call 479-202-4476 for more info or directions. Happy bouncing!