We can't think of a better girls' night out than going to the GREASE Sing-a-Long show at the Walton Arts Center on Halloween night. (Show starts at 7:30 p.m.) We're giving away TWO tickets to the show at the Walton Arts Center on October 31st, so throw your name in the online hat to win them!
This sing-a-long features the classic movie we all know and love along with song lyrics on the screen. (If you're like us, you don't even need the song lyrics because you already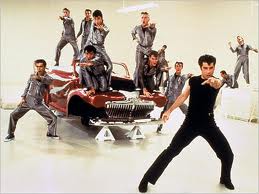 know all the songs by heart!) If you like, dress up with your friends as a Pink Lady, a Greaser or maybe a Teen Angel from that iconic malt shop scene. There will be prizes for costume contest winners. (This is the perfect time to find a fun Grease-related costume! Check for costumes at The Party Place in Rogers or put something together from your own closet.)
The night will kick off with pre-show festivities in the Walton Arts Center lobby, so get there early for treats and punch. You'll also get a pre-show goody bag filled with pops you'll use during the sing-a-long, and the show host will help everybody warm up their vocal chords and brush up on their hand-jive skills.
We know that going to a show on Halloween night might present some scheduling difficulties if you have trick-or-treaters to chaperone, but keep in mind that you can get your trick-or-treating done early and still make it to the show. (Or if your tween or teenage kids are going to a Halloween party, maybe you can sneak off for a little fun of your own.)
HOW TO ENTER: To throw your name in the hat for the Grease tickets, click the words "post a comment" below and tell us what your favorite song (or scene) from the movie Grease is.

(We're still in love with Sandy's song "Hopelessly Devoted" although "Summer Nights" is a close second.) You can also email your answer to us at giveaways@nwaMotherlode.com.
HOW TO INCREASE YOUR ODDS: Boost your chances of winning the show tickets by emailing your friends about this fun giveaway. We'll give you an extra chance to win for every friend you email, but be sure to put giveaways@nwaMotherlode.com on the CC line of your email so we can give you proper credit.
BE SOCIAL: Share info about this show on Facebook or Twitter so your friends can snag show tickets, too!
TICKET INFO: If you love Grease too much to leave your show tickets to chance, buy them online before they're gone. Click HERE to buy tickets online or call the Walton Arts Center box office at 479-443-5600.
Watch your email inbox because we'll choose a winner AT RANDOM at the end of this week! Good luck!