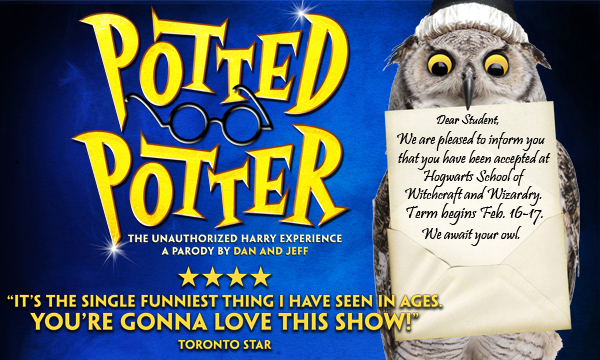 Note from the mams: Congratulations to Joanna Gray, winner of the Potted Potter tickets. Have fun, Joanna!
If you love Harry Potter books — or if you've always wanted to know what all the fuss was about — this is a show you've got to see! We've got FOUR tickets to give away for the perfect family night out to see Potted Potter, The Unauthorized Harry Experience: A Parody by Dan & Jeff. 
The tickets are for the show at 4 p.m. on Saturday, Feb. 16.
This show condenses all 7 Harry Potter books into 70 very funny minutes. All your favorite Harry Potter characters will be there plus lots of props, music, costumes, a game of Quidditch, a fire-breathing dragon and some Hogwarts magic, too.

Written and performed by two-time Olivier Award-nominated actors Daniel Clarkson and Jefferson Turner, the show is a must-see for Potter addicts and a great introduction to the series — even if you don't know the difference between a horcrux and a Hufflepuff. According to the critics, POTTED POTTER will make you roar with laughter.
ABOUT THE SHOW: Daniel Clarkson and Jefferson Turner originally 'potted' some of the creations from J.K. Rowling's world when they were asked to create a five-minute performance for a bookstore, to launch the sixth book. With a cast of only two, Dan & Jeff take on the ultimate challenge of potting all seven Harry Potter books into seventy minutes. CLICK HERE for more info on Potted Potter and to see a video.

"The duo casts the perfect spell over the audience." said The New York Times. Dan and Jeff have been bringing the best in family entertainment to the stage since 2006. Potted Potter saw them win widespread acclaim and a fan base that crossed three generations. It played four sell-out Fringe seasons, three sell-out London seasons and extensive national and international tours. This brilliant family entertainment is perfect for ages six to Dumbledore (who is very old indeed).
HOW TO ENTER: If you would love to win these four tickets, just click on the comment button below and tell us which Harry Potter book or movie is your child's (or your!) absolute favorite. Come on, we know you read them, too!

HOW TO INCREASE YOUR ODDS: Help us spread the word about the giveaway and we'll give you extra chances to win. Send an email to your friends about the giveaway and be sure to put giveaways@nwaMotherlode.com on the CC line of your note. We'll give you an extra chance to win for every person you tell.
BE SOCIAL: Spread the word via social media and we'll give you extra chances as well. Just share the giveaway with your friends on Facebook (click here to go see the post on our Facebook and share from there) or share about the giveaway on Twitter to increase your odds of winning. If you do either of these things, just let us know in your posted comment or send us an email so we can give you proper credit.
How NOT to miss this show: For more information about this performance or others, contact the Walton Arts Center Box Office by calling 479.443.5600 or by visiting waltonartscenter.org. For more information on Potted Potter, visit www.pottedpotter.com. Remember, there will be four shows at Walton Arts Center: Saturday, February 16 at 4 p.m. and 8 p.m., and Sunday, February 17 at 2 p.m. and 7:30 p.m.