By Andi Douglas, nwaMotherlode contributor and mama of 3
We are blessed by living in one of the most beautiful areas of the country. From the surrounding mountains, to the natural waterfalls and the colorful fall foliage, backdrops for a family photo or portrait are easy to find. But if I make my family pose in the eighty degree October heat in fall sweaters to capture our Christmas card pic one more time, I might have an actual rebellion on my hands.
The good news is, along with all of the naturally occurring beauty, Northwest Arkansas has also been blessed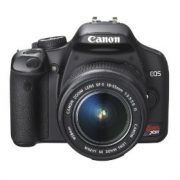 with amazingly talent ed artists from all over the world that call NWA home and are adding their artistic touches around town. The result is an array of murals and man-made backdrops to add some variety to your family portraits (and you don't have to worry about anyone getting a leaf in their eye while you fake laugh and throw foliage around like confetti.)
A local favorite for large groups and senior pics, the #MaudeWall on the backside of Maude Boutique in Fayetteville provides versatile solid backdrops to complement any outfit.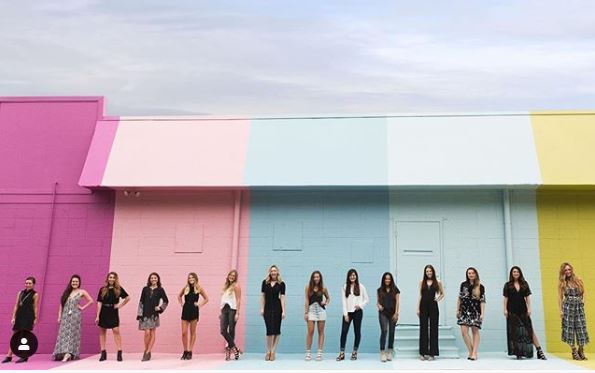 Local muralist Matt Miller incorporates circles and vibrant colors in his work seen brightening up the walls of the Arts Center of the Ozarks in Springdale. You can see more of his work along College Ave in Fayetteville.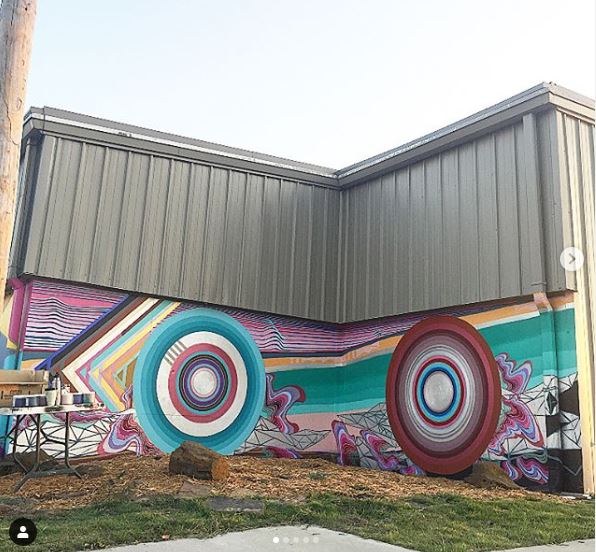 If your family likes a bit of whimsy and imagination in your home, the monstrously amazing work by Jason Jones should inspire some really fun shots. This giant octopus resides on the side of the Rapid Prototypes building in Bentonville.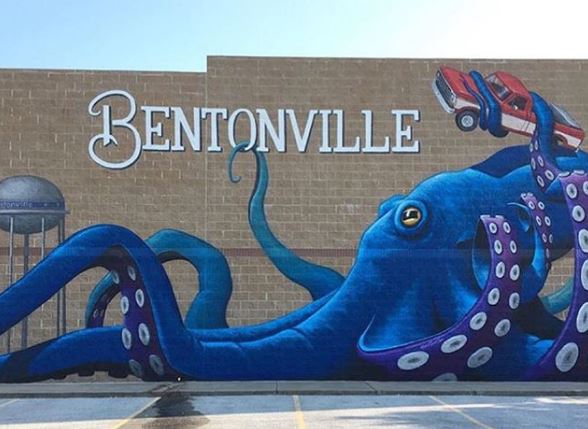 Jason also created the famous Jackrabbit in a gas mask located at 545 West Center St., in Fayetteville.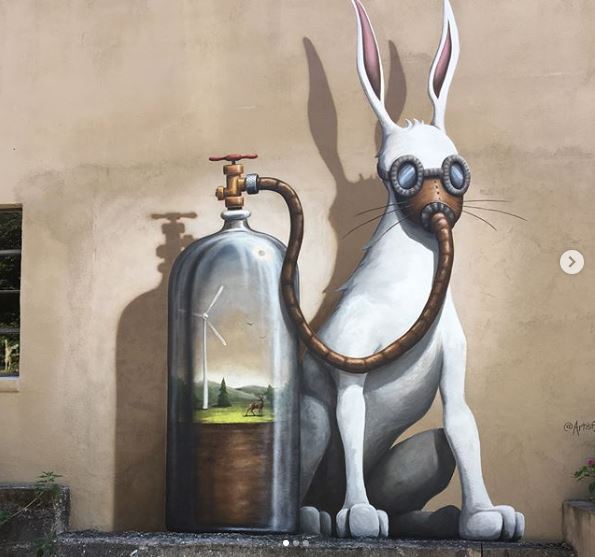 Peruse Jason's Instagram for more beautiful murals to choose from, like these adorable gnomes in downtown Fayetteville.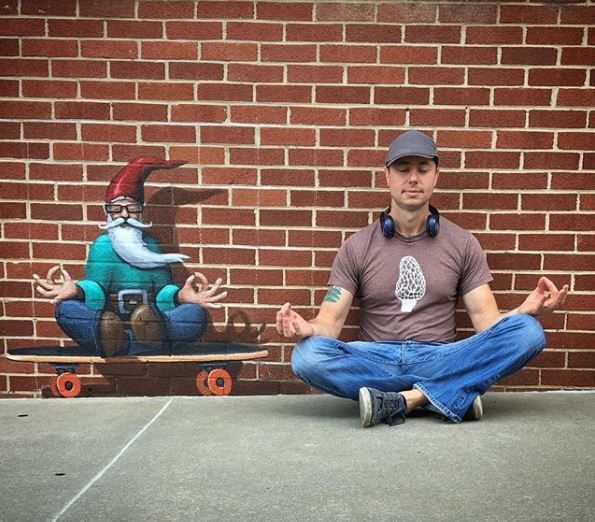 Nothing beats some classic retro graffiti art, like this mural in Bentonville painted by Sasha Rayevskiy.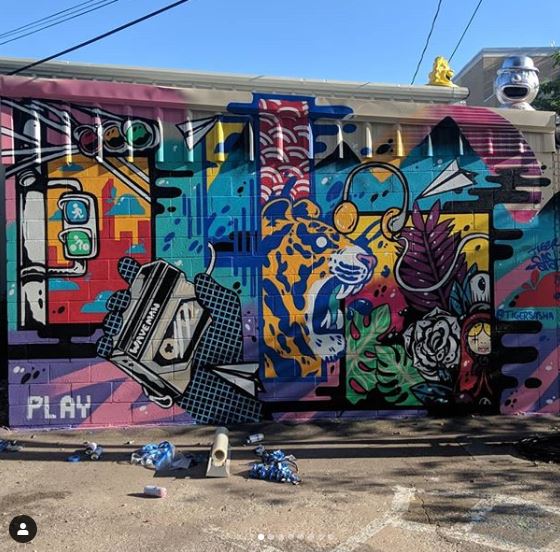 Kids are cute and all but it's hard to find a better model than this fur baby. Gitte is training hard to become a service dog and earned a rest in front of this classic mural by artist Amy Eichler. The mural is located on Lake Fayetteville by the fishing docks.
You may have seen Olivia Trimble's quilt squares in smaller scale around town, like at the Shiloh Museum, but you can find a full wall mural at the Uptown Fayetteville Apartments for a cozy family pic.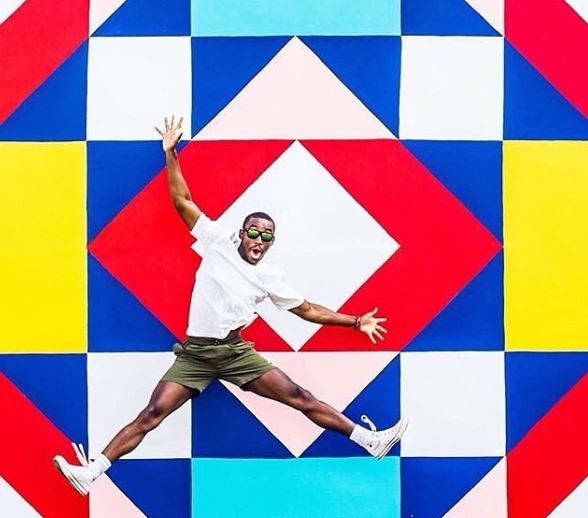 If you haven't taken a photo on front of the Love statue at Crystal Bridges Museum then I assume you have only lived here for about 5 minutes. If that's the case, rush on over and get that done before the summer heat hits and that thing gets smokin' hot. Thankfully, the rotating exhibits provide us locals with new backdrops regularly and this summer's Color Field exhibition in the North Forest is particularly exciting. The vibrant colors and shapes will bring a natural smile to any child's face.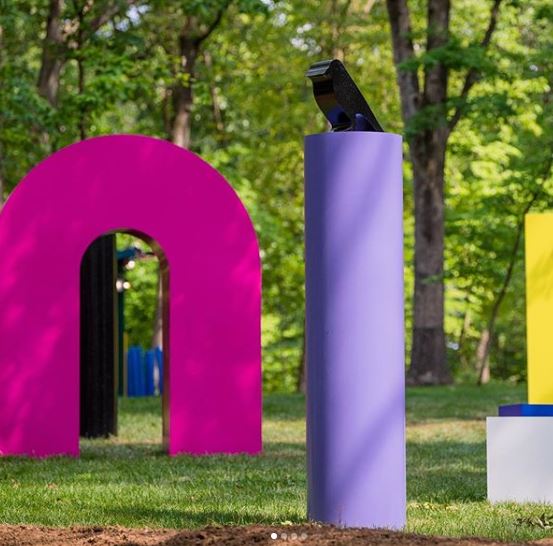 The art scene in Northwest Arkansas is booming and there is more art to come. There is actually an opportunity available right now to paint a new mural if you know any artists who would love to make there mark. Click here to see the Arts Center of the Ozark website, which has more info about the mural project.
There was one particular photo a friend of mine posted years ago that was the inspiration for this post and just shows how inspiring art can be to young people in our town as well as adding to the natural beauty that already surrounds us. Unfortunately, she can't remember where the picture was taken of this beautiful ballerina, so maybe one of you will be able to tell me what Fayetteville wall is graced with this beauty.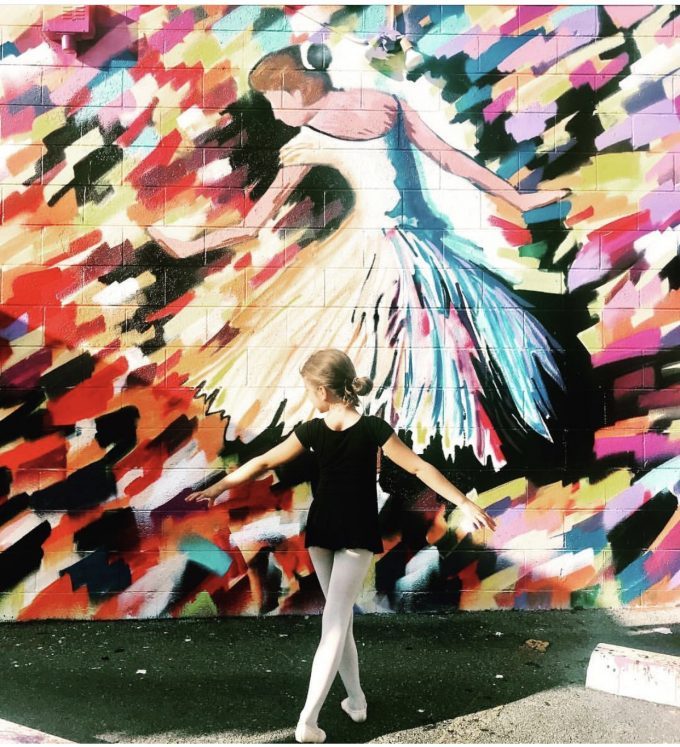 I see photos all the time with fun new backdrops, but it's sometimes so hard to find the locations. If you know of a great place to take a picture, please leave a comment and tell us where. We would love to see pictures of your family enjoying the booming art world in our little corner of Arkansas.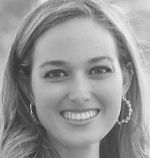 Andi Douglas always makes us laugh and is the mama of three especially cute kiddos. Email her at mamasATnwaMotherlodeDOTcom.