Happy Friday! Let's have some fun at these cool events happening in NWA on Saturday.
If you need more help finding events, check out our October Calendar, the Halloween Guide or our Fall Fun Guide (look for craft fairs, pumpkin patches and farmer's markets, some of which are coming to an end in October.)
Red Bull Pump Track World Championship Final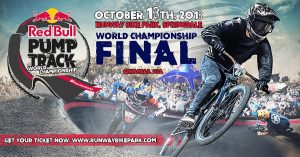 The Red Bull Pump Track World Championship Finals, an international bicycle competition, will be held at The Runway Skills Park located on The Jones Center campus in downtown Springdale.
Date: Saturday, Oct. 13
Time: Varies
Location: The Jones Center, Springdale
Community Spotlight: Maybe It Is Rocket Science
"Fly me to the Moon," or at least get as close as possible. OzarkSTEAM Foundation will be at the Amazeum to help kids build and test rockets. Participants will learn foundations of the scientific method while predicting how high and how fast the rocket will fly. They'll learn how important the fins are to the flight of a rocket.
Date: October 13
Time: 12-2 p.m.
Location: Amazeum 1009 Museum Way, Bentonville
6th Annual Fall Festival at Devil's Den State Park
Celebrate the coming of fall at Devil's Den. Design a homemade costume and then join in the walk around trick or treating, crafts and fun programs during this weekend for the whole family.
Date: October 13
Time: Craft tables, 1-3 p.m., outside the visitor's center. After making your costume, go trick-or-treating through camp area E.
Location: 11333 West Arkansas Hwy. 74 West Fork
Contact: 479-761-3325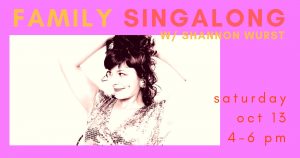 Stop by Bike Rack Brewing's 8th Street Market location for this fun event for families. Shannon Wurst is leading a "FAMILY SING-A-LONG" on Saturday, Oct 13th at 4:00 on the patio! Bring the kids, grab a drink and we'll have a good time.
Date: Saturday, Oct. 13
Time: 4-6 p.m.
Location: 8th St. Market,Unit #61, Bentonville
Harry Potter and the Chamber of Secrets in Concert featuring musicians from SONA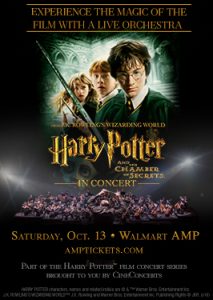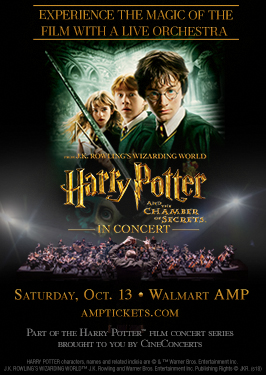 Audiences will be able to relive the magical adventure of Harry Potter's second year at school like never before. This concert features Harry Potter and the Chamber of Secrets™ in high-definition while a live orchestra performs John Williams' otherworldly score. Experience the wonder of talking spiders, scolding letters, and giant snakes all over again! Tickets are $22 each for general seating.
Date: October 13
Time: Gates open at 5:30 p.m., film starts at 7 p.m.
Location: Walmart AMP