26 For as the body without the spirit is dead, so faith without works is dead also. James 2:26 (NKJV)
By Bro. John L. Cash, minister, blogger and father of 2

Several years ago when I was a high school English teacher, our football team went to the state playoffs. It was a very exciting game, because our team was ahead by just a few points with only moments remaining. Our quarterback went back for a pass and threw the ball toward his intended receiver. It was a beautiful throw. Just then, as our receiver was about to catch the ball, a player from the opposing team stepped in front of our man and gracefully grabbed the pigskin. He turned and ran for his goal line and scored a touchdown. Because our quarterback threw an interception, our team lost the championship.
Turning to a teacher-friend (who was also a coach) I remarked how our quarterback would be in trouble with the football coach on Monday morning. Surely he would be fussed at by his coach for throwing an interception in the championship game. I was very surprised by my friend's reply. "What in the world are you talking about?" he said. "His coach is not going to say anything to him about it. Don't you ever watch football on television? Even professional quarterbacks throw interceptions from time to time. Nobody's perfect. You can't play football without dropping the ball. That's just the nature of the game."
I've never forgotten those words, and they have done a lot to change the way I think about my life. In the past, I've frequently suffered from "analysis paralysis." That's when a person spends so much time thinking about the best way to do something that time runs out before he can even begin his task.
Too often in trying to complete a task perfectly, I've thrown in the towel in frustration because of my imperfections. Sometimes I've procrastinated in beginning to do a good deed because I was waiting for the perfect time, the perfect information, the perfect situation, and the perfect set of circumstances. Sadly, although my intentions were good, I wound up doing nothing. I've come to believe that the smallest completed work is much better than the greatest kind deed that never makes it out of the planning stage.
So, in light of that fact, I've made a resolution for this New Year. I want to "throw the ball" more often. That is, I plan on doing more things for the Lord — even if I do those things imperfectly. And simply because I'm throwing the ball more, I'm sure I'll be dropping the ball more often. Because I'm not perfect, the work I do is not going to be perfect, either. Because I live in a fallen world, I'm never going to have the perfect conditions to begin and carry out my work. But I have a feeling that I'll have more "completed passes" than ever before. In this life, if you want to move the ball forward, you've got to be willing to run the risk of a fumble.
That's just the nature of the game.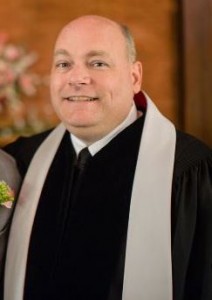 Dr. John L. Cash is the "Country Preacher Dad." He was raised in Stuttgart, Arkansas, and has spent the last 26 years being a country preacher in the piney woods five miles south of the little town of Hickory, Mississippi. (On week days has a desk-job at a public school and teaches Latin on closed-circuit-television.) He and his lovely wife, Susan, and his sons, Spencer (age 20) and Seth (age 17) live in the parsonage next door to the Antioch Christian Church (where Mississippi autumn football is a hot-weather-sport, and spring baseball is a cold-weather-sport.) He would love to hear from you in an email sent to jcash@scott.k12.ms.us.