God is our refuge and strength, A very present help in trouble.  Psalm 46:1 (NKJV)  
By Bro. John L. Cash
I was born with multiple birth defects, the most visible ones being in my right foot, right leg, and spine. And with the passing of time, I'm fighting a battle with pain. It's not really that my pain is excruciating. My pain is more of a constant aggravation — like a kid ringing your doorbell 24 hours a day without a break. It's a good night, indeed, when I can sleep a whole night in bed without having to sit up and read.
When I was younger, I used to feel alone — like I was being cheated in some way. But I realize now that I have a lot of company; studies show that 1 in 5 adults suffer from chronic pain. And the work of the Church has helped me see things as they really are. A few weeks ago, in the course of my ministry and in the course of a single day, I visited with (literally) a dozen people who are fighting the ravages of chronic pain. A third of them have taken chemo or radiation, and one has a feeding tube. Some will eventually pass away from the cause of their pain. And all of them are doing less complaining than I do.
When I was a child and I complained of being discouraged or in pain, my late father always told me, "Go and do something for somebody else, someone worse off than you." That always ticked me off a little. I mean, I wanted to say, "Okay, Dad. I see the obvious lesson here. There are folks worse off than me. But I don't see how the fact that others are suffering makes my problems any less."
But now that I'm a little older, I understand perfectly what my father was getting at. When you see a dozen people (in only one day) who are in the clutches of chronic pain, it's not a lesson in pity. It's a lesson in perspective. The Apostle Paul says it this way: "No temptation has overtaken you except such as is common to man; but God is faithful, who will not allow you to be tempted beyond what you are able, but with the temptation will also make the way of escape, that you may be able to bear it." (1 Corinthians 10:13 NKJV)
St. Paul seems to be saying that the struggles, the burdens, and the pains of the this life are just part of the "mixed bag" that comes with living in a fallen world. But the verse also offers a precious promise. God, in His faithfulness, is always present in the lives of His children. He will make a path through any situation for those who come to Him.
Let's make every effort to draw closer to our Saviour in this coming week.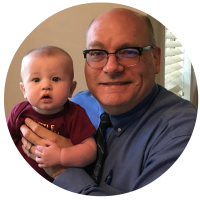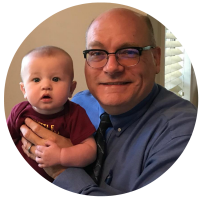 Dr. John L. Cash is the "Country Preacher Dad." He was raised in Stuttgart, Arkansas, and has spent the last 33 years being a country preacher in the piney woods five miles south of the little town of Hickory, Mississippi. He's a retired Mississippi public schoolteacher with grown sons, and is now a stay-at-home-grandpa with his grandson, Landon Cash.  He and his lovely wife, Susan, live in a brick house in town (where the Preacher had a very good week.) You can send him a note at brotherjohn@ilovechurchcamp.com.