By Lori Homstad, business owner and mother of two
Whether you love football season or not, it's easy to love spending time outside now that the hot temperatures are fading into a comfortable fall. If you're cooking on the stove or manning the barbecue grill, you can easily make both the kitchen and the patio area more stylish and functional. Here are some tips to make it happen:
For the kitchen, focus on convenience, comfort and control. Some window blinds are either hard-to-reach or large and heavy. When you're choosing window treatments for the kitchen, consider some of the motorized varieties because they can be opened or closed with the touch of a button. This is especially helpful if you've got a hard-to-reach area over the sink. Motorization creates a cordless environment that's safer for kids and pets, too.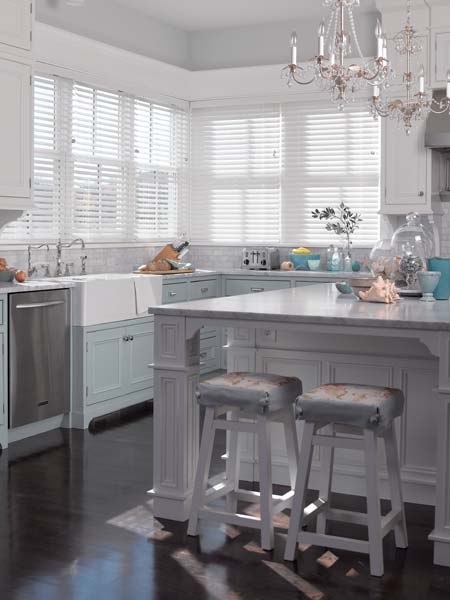 The blinds can either be battery-powered and WireFree or can be wired or

plugged in. You can control the movement from a wall switch, hand-held remote or an automatic timer, (all of which are backed by a five-year warranty.) Check out the demo in the YouTube video below. Your kids would appreciate the high-tech "cool factor" here.
If you or your husband like to barbeque this time of year, make sure the patio looks as good as the food! Often the patio is the most neglected area of the house when it comes to decorating and comfort. We do lots of free in-home consultations with clients who ask about outdoor solar shades for the patio, and they're always surprised at how much style they add. (And yes, they're affordable, too!)

Solar shades reduce glare and block UV rays which helps protect your furnishings from sun fading. They come in lots of rich colors and fabric styles. Regardless of whether your personal style is contemporary, traditional or elegant, there's definitely an option that fits the look you want. I've seen these types of shades used in just about every type of home décor you can imagine. And these blinds do help lower your air-conditioning bill, so everybody wins.
Home design is so much more than furniture and accessories. Remember that the way you finish off your windows can pull the whole room together and take the room's sense of style to a whole new level.
Related article listed below. Click on the title to read more:
The Home Design category is sponsored by Budget Blinds of Northwest Arkansas. (Click here to read more about this local company.) For a free in-house design consultation, call their office at 479-751-6655. They bring their mobile showroom to your home, which is SO much easier than trying to remember what your windows look like. Click here to visit their website.
Click the play arrow below to see a demo of motorized blinds.