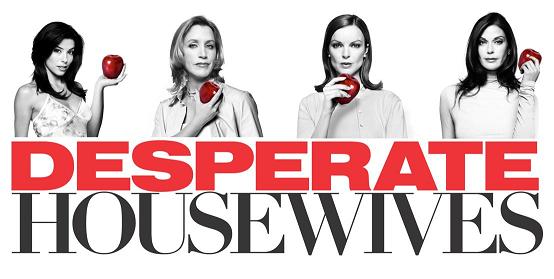 If you missed Sunday's episode of Desperate Housewives, here's a quick recap:
Gabi and Angie: When she realizes that Anna and Danny Bolen might be doing more than playing footsie, Gabi decides to appeal to Anna's materialistic side. She gives her an unsigned check for enough money to pay for her first year of modeling school plus an apartment in New York. The check will be signed once Anna graduates from high school without having sex. Anna takes the deal but still ends up getting caught by her Uncle Carlos with a half-naked Danny on top of her on the sofa. Carlos goes nuts and threatens Danny physically. Angie sees it happen through the window and bursts through the door to get all "mama bear" with Carlos, saying that if he ever touched her kid again she would kill him. Yikes! Later, Gabi and Carlos go to the Bolen house to apologize but hesitate when they hear an argument between the Bolens going on inside. What they heard tipped them off that the Bolens are definitely hiding something BIG.
Lynette: She and Tom are now in couples counseling, but Lynette wasn't happy in this episode because she was always the one getting reprimanded at counseling. But by the end of the episode, the couple made a breakthrough when they realized that Lynette always plays the bad cop and Tom always plays the good cop. They agreed to back each other up from now on and not get stuck in the roles they've always been in. Then the therapist threw them out because they both said her acting skills (they saw her in a community play) were horrendous.
Susan: She sold her half of "Double D's," the strip club that Karl had left her in his will. But before she left, she gave a pep talk to a stripper who clearly wants to do more with her life than lap dances. The stripper took her words to heart, quit her job and came to Susan to say "What do I do next?" Susan helped her get a job as a teacher's aide at the school but she was soon fired when a parent recognized her as a stripper he'd seen at the club. Susan feels guilty and wants to help, so she invited the stripper to move in with her and Mike and MJ until she gets back on her feet financially. This should be interesting.
Bree: She was worried when her volatile, wheelchair-bound husband finally got really peaceful and happy. Then she found a suicide note he was writing on his laptop. She confronted him and he admitted that he was planning to end his life. So Bree went on a suicide watch and tried to cheer up Orson. But when she couldn't bring herself to say that she loved him, he was even more intent on ending it. Then they went to an anniversary party for an older couple, and Bree realized that this couple had made it through rough times but still remembered why they fell in love with one another. She found Orson just as he was about to roll himself into a swimming pool and she begged him to stay with her because she wants to "recapture" what they once had together. Looks like Orson is starting to fall for her all over again.
There were no previews for next week's episode, so it might be a repeat. We'll let you know what happens!