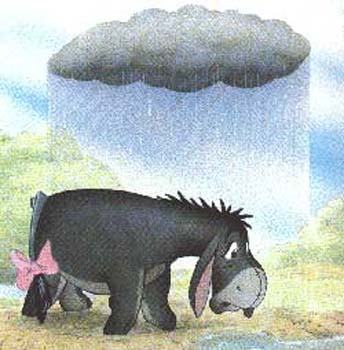 "For we walk by faith, not by sight." 2 Corinthians 5:7 (NKJV)
I'm writing this devotion on Tuesday, and I feel one thousand times better than I did yesterday. That's because most preachers feel terrible on Monday. On Mondays I typically find myself fighting fatigue and a dark mood. Yesterday I told people the same thing that I always say on Monday: "I'll feel better tomorrow, when Tuesday gets here, just by virtue of the fact that it won't be Monday."
I've asked a lot of pastors for their opinions, and the consensus is pretty much unanimous. Monday is a hard day for preachers. My brother-in-law, Dr. Ron M. Buck, told me when I entered the ministry that he thought a minister should take a different day besides Monday for his day off, because Monday is pretty much shot anyway. I asked Bro. C. E. Wall, one of my mentors who's nearing the age of 80, what he thought of the situation. He told me that for many years he preached twice each Sunday and then went to work at the Highway Department bright and early Monday morning. He summed it up simply: "Oh, John, Mondays were rough. Tuesdays were always better, but Mondays were rough."
I'm not sure why Mondays are so hard for preachers, but I have some theories. Most preachers work really hard on Sundays and are really happy on the Lord's Day. As so often is the case, an emotional high is followed by an emotional low. Sometimes we get so wound up that it's hard to get to sleep Sunday night. I like my friend Bro. Archie Taflinger's idea the best. He believes that sometimes we probably don't take care of ourselves the way we should on the other six days of the week. He says that when we preach on Sundays, the Holy Spirit works in us and through us. God is so much stronger than we are that our frail bodies are overworked by His presence! I think there's more than a grain of truth in his explanation.
Everybody has a hard day now and again, and I think that's especially true for mothers. God has placed mothers in a ministry that never ends and that never has a day off. Yet, one thing I have learned is absolutely true. When you're tired and blue, it's important not to focus on the way that you FEEL but on what you KNOW to be true. We walk by faith and not by sight. We are saved by our faith, not by our feelings. The promises that God told us in the light are still true in our darkness. And Jesus' last promise to His children before He ascended into Heaven is this: "Lo, I am with you always, even to the end of the age."
So, dear mother, take heart. The light of Jesus is always with you, even on the cloudiest Monday. And Tuesday always comes again, right in God's perfect timing.
Dr. John L. Cash is the "Country Preacher Dad" * (Sing that to the tune of "Secret Agent Man." ) He was raised in Stuttgart, Arkansas, and is beginning his third decade of being a country preacher in the piney woods five miles south of the little town of Hickory, Mississippi. He and his lovely wife, Susan, and his sons, Spencer (age 17) and Seth (age 14) live in the parsonage next door to the Antioch Christian Church (where Tuesday is always a better day.) You should drop him a line at extramailbox@juno.com.