Happy Wednesday, mamas!
If you're looking for a great book that you AND your kids can read, we've got a good one for you. Pansy and the Promise, by Stanley Ross Rule, is based on real stories about a young girl living and traveling in the Old West. (Full disclosure: The girl written about in the book, Pansy, happens to be my great-grandmother, who I never had the chance to meet.)
What we love about this book is how it combines reading with history and spiritual encouragement. Many home-school moms are using it as history lessons. (If you'd like to do the same, you can download vocabulary lists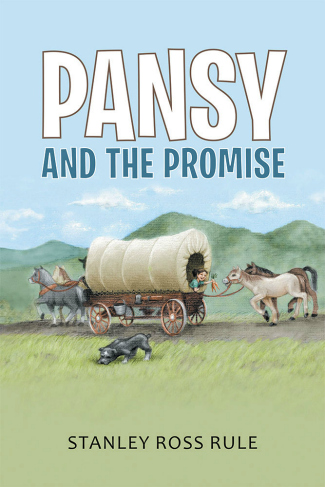 and lesson plans for free at the author's website: www.pansyandthepromise.com.)
It's perfect for anyone who loves the Little House on the Prairie series. You can get the book at any online bookseller. Click HERE to read more about the book on Amazon.
Here's a little more info about what you'll find inside:
Pansy and the Promise is a book for children based on true-life stories told by the author's grandmother. This historical fiction gives young readers an exciting glimpse of life, faith, and courage in the latter days of the Old West. It's written for young minds to easily capture the concept of God's grace in a story of adventure, mystery, and surprise.
Pansy grew up in a log cabin ranch house in New Mexico in the late 1800s. Anticipation filled the cabin when Papa announced that the family would be taking a trip by covered wagon to Galveston, Texas. Every night along the trail, Papa and Mama Hunt shared campfire stories with Pansy about exciting adventures in the lives of her remarkable family. She learned she had a rich heritage of trusting God in some impossible circumstances.
Read the story of her Great-Grandmother Nancy being rescued from a warring tribe of Indians and how God provided for her Aunt Virginia in the middle of a great drought. These tales combined with her own adventures along the trail help her to spiritually understand how God has promised "to never leave or forsake us."
Pansy and the Promise encourages a child to appreciate life and embrace faith. The book is being used in faith-based school classrooms to lead children into discussions about faith, forgiveness, perseverance, and kindness.