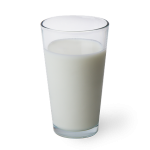 "Drink your milk. It's good for you."
We've all said it dozens of times over the years while we're feeding the kids. Some kids are more than happy to gulp it down because they love it.
But some kids… and maybe you have one of them… simply do NOT like it. And we all know what it's like to try to get a kid who doesn't like the taste of something to eat or drink it. It's only slightly less challenging than wrestling an alligator.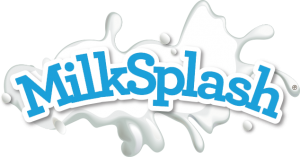 Times like these call for a little creativity. A new product called MilkSplash might make it easier (and a lot more fun) for the kids to drink their milk and be happy about it. Squirt a little into the milk, stir it up and suddenly that boring glass of white milk that your kid refused to look at becomes something a lot more interesting — something called "Sir Strawberry Swirl," "Orange Cream Dream," or even "Jammin Banana." (Click here to see the options for different flavors.)

This product earned the title of "Best Children's Dairy Product" from the 2014 World Dairy Innovation Awards. While that's impressive, what moms like more than that is the fact that the extra flavor comes with NO extra calories.
The reason our mothers and grandmothers all pushed milk toward us as kids is simple. Milk is STILL the No. 1 source for Vitamin D, calcium and potassium. And people who drink low-fat milk (instead of sugary sodas and fruit drinks) are more likely to be at a healthy weight.
A few other things moms like about this product:
It's portable and doesn't have to be refrigerated.
It's not messy and, if it does get on a kid's clothes, it washes out.
Each bottle has enough flavoring in it to prepare 24 glasses of milk.
You can use it in cereal, milkshakes, and protein shakes. And it works just as well in soy milk and almond milk.
Moms, we always want to give you the full picture on any kid product we write about, so we'll tell you straight up that this product does have both natural and artificial ingredients in it (although an all-natural version of the product IS now in development.) The truth is that MANY of the things that we and our kids eat daily have a few artificial ingredients in them.
What we do know is that this product is approved by the U.S. Food and Drug Administration and it's also gluten-free and allergy-free. We trust that you, as moms, can look at a product's ingredient list and decide if you're comfortable it.
As two moms of picky eaters, we know how tough (and how frustrating) it can be to get kids to eat and drink what we know they should. If melting a little cheese on the broccoli or splashing a little flavoring into the milk helps us get the job done, we're happy to have those options available.
Click HERE for more info on MilkSplash. (You can find it locally at Walmart and Target.)
Take a look at the video below for more opinions from moms who have struggled to get their kids to drink milk (without extra sugar), including one mom of a diabetic son.
Note: MilkSplash is an advertiser on this website. But, as with ALL posts we write and publish on nwaMotherlode.com, the opinions here are completely our own.