Heads up, bargain hunters: There is a serious two-day sale going on at Metro Appliances & More today and tomorrow (Thursday, Oct. 15th and Friday, Oct. 16th). If one of your appliances is limping along on its last legs, this might be the best time to scope out a new one at a much lower price than you'd normally see.
This is an "inventory clearance" sale and the discounts are deeper than the store has had in more than 40 years of doing business. And that says a lot because Shannon and I have both shopped there for years and have already seen some very reasonable everyday prices.
The last time Metro had a major sale like this, we mentioned it on social media and one of our nwaMotherlode readers snagged a whole package of appliances and let us know about it on our Instagram page. How cool is that?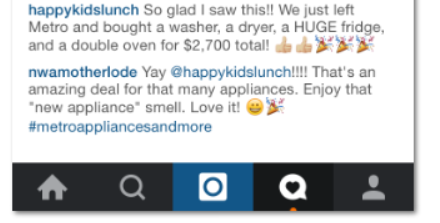 Keep in mind that local deliveries are FREE which should save you even more on the deal. Shopping hours are until 7 p.m. today (Thursday) and from 8 p.m. to 5 p.m. on Friday.
Hope you find exactly what you're looking for while you're at the sale. And we already know you'll get awesome customer service while you're there because that's one of the many reasons we've been partnering with Metro Appliances & More for more than seven years now. These guys know their stuff and they definitely take care of their local mama customers. If you have questions or need directions for how to get to Metro (located at 5700 N. Thompson in Springdale), call them at 479-750-2200.
Happy shopping!