With summer officially in swing, we thought we'd do some research on this season's hottest trends (like the slides on the right). We found a great roundup in a recent issue of InStyle magazine and discussed our favorites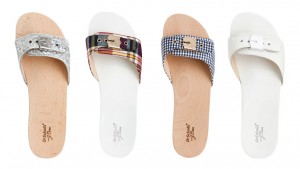 during a recent week of Mamas on Magic 107.9. If you missed it, click the audio bars below to hear it now.
You can always catch the Mamas on Magic at 7:45 a.m. on Magic 107.9 weekdays. Hope you'll join us!
Gold-rimmed sunglasses, knotted ponytails and more
Indigo and off-the-shoulder blouses
The Great Flip-Flop Debate
Three-piece swimwear and beach/pool essentials
Fringed sunhats, Bohemian prints and more