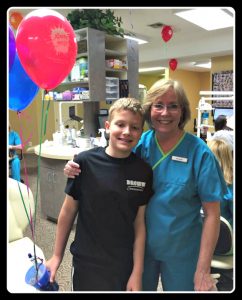 See that kid smiling? That's my son Jack and this pic was taken last spring just a few seconds after he got his braces off at Dr. Derek Brown's office. Oh, what a happy day it was. (The team at Dr. Brown's office always makes it feel like a party when a kid gets his braces off.) We left there and went out to eat all the things you're not supposed to eat when you've got braces — popcorn, Skittles, Laffy Taffy, etc. We had a blast. And Jack's new smile makes all those orthodontic appointments more than worth it.
If your kids aren't old enough yet for braces but you have a feeling that day might be approaching in the next few years, there's plenty to learn about this phase of your kid's life. Even if you had braces yourself, you'd be amazed at just how much technology has advanced the world of orthodontics. We talked about it recently during our Mamas on Magic 107.9 radio segment, which airs every weekday at 7:45 a.m. If you missed the radio chat, click the audio bars below to hear the discussion.
Three kids, three sets of braces…
Why do some kids get braces twice?
Braces and oral surgery?
Orthodontic terms you need to know
How to help kids cope on the tough days