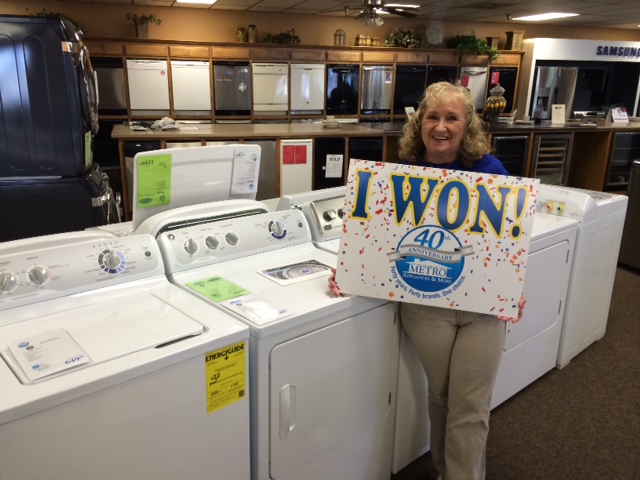 One of our favorite nwaMotherlode sponsors, Metro Appliances & More, has been celebrating their 40th anniversary for the past several months. And these guys really know how to party. In fact, they've been celebrating 40 years of business by pledging to give away $40,000 in appliances to their customers. (They draw for a winner's name once each week, and that person wins a new washer and dryer.)
Pictured above is one of the most recent winners, Thelma Eckert of Springdale. She's going to be smiling every time she washes a load of clothes in those FREE machines.
Metro has already blown right past the $40,000 giveaway mark. They've already given away $60,000 worth of appliances and they're still going. So… if you'd like to get in on the action, we'd recommend you do it soon before the anniversary celebration comes to a close.
Here's how you enter:
1. Go to the Metro Appliances & More showroom. (They're located at 5700 N. Thompson in Springdale. It's on 71B between Springdale and Lowell.)
2. Put your name in the drawing to win a washer and dryer set, which is valued between $1,000 and $2,000. (Note: You do NOT have to purchase anything to put your name in the drawing. No strings attached.)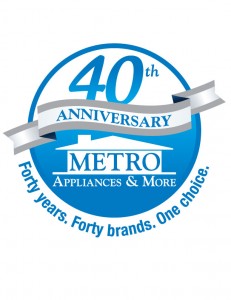 That's it! Easy as that. If you're out and about this weekend, stop by the showroom and put your name in the hat. We can guarantee you'll enjoy looking around the store, which is beautiful and HUGE. It's fun to look at all the different kitchen displays they have in place, and the staff there will answer your questions if you have any or just let you browse in peace, if that's what you prefer.
For more info about the drawing, stop by the store or click HERE for details. Good luck!
And Happy Anniversary to our friends at Metro Appliances & More. Thanks for 40 years of some of the best customer service we've ever seen.