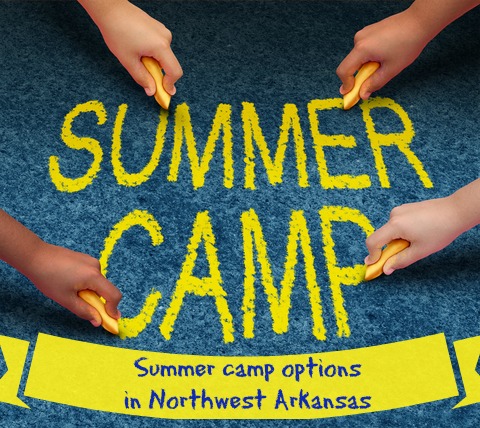 Would you like to see your camp featured in the nwaMotherlode Summer Camp Guide for Kids? Contact Gwen and Shannon at mamas@nwaMotherlode.com — or call us at 479-409-0424 — for more information.
Featured Camps for NWA Kids

:
Crystal Bridges Museum of American Art: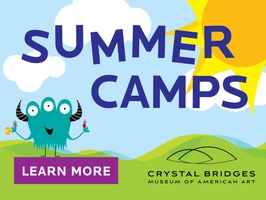 All children are artists on the inside. Crystal Bridges Summer Camps will encourage those creative instincts to shine! All materials, plus healthy snacks, are included. Sign up now for Crystal Bridges camps that start in June.
Some options include:
June 2015:
♦ Painting Summer Camp
♦ Mixed Media Mania
♦ Movie-Making! Video selfies
♦ Drawing
July 2015:
♦ All About Andy Warhol
♦ The Dancing Museum
♦ Art & Animals
Click here to sign up now for one of these awesome art-related classes at Crystal Bridges!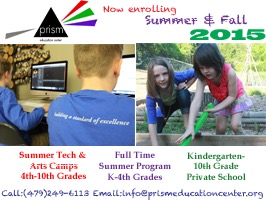 Prism offers a full summer program for students preschool to 4th grade that runs from June 1-July 29. Parents can sign up for 5-day, 3-day or 2 –day slots that run from 7:30-5:30. Students will have an enriching environment with low student-teacher ratios as they discover a different country each week through the Arts and Project-Based Learning.
♦ The full-summer programs will be themed "Around the World in 40 Days!"
Prism also has weekly camps for students in 4th-10th that don't require a full-summer commitment. These are one-week camps that emphasize either Arts or STEM (Science, Technology, Engineering, Mathemathics) programs.
♦ These weekly camps run 5 days a week from 8 a.m. to 3 p.m.
Click here to see more about summer classes at Prism Education Center!

Summer Academy for Young Actors, Theatre Squared:
The Summer Drama Camp is perfect for kids who are ages 10-12. In the mornings, students will study acting, improvisation, movement, stage combat and design!  In the afternoons, they will devise and rehearse an original showcase production that will highlight favorite scenes and sonnets from the bard.
This creative camp is perfect for students who are new to theatre as well as for those who are interested in further developing their skills.
The program promotes active engagement and nurtures respect for the power of language, the examination of complex ideas, the expression of imagination and a deepened understanding of the richness of human experience.
♦ T2 camps enhance life skills of observation, focus, self-confidence, discipline, integrity, commitment and teamwork.
♦ A free public showcase performance will take place July 10 at 3pm in the Studio Theatre at Walton Arts Center's Nadine Baum Studios where students can share the week's achievement with their friends and families.
♦ There are also summer programs also available at Theatre Squared for ages 13-18. CLICK HERE for more info about the T2 summer drama camp for teens.
Click here to find out more about these summer academy options for your young actor!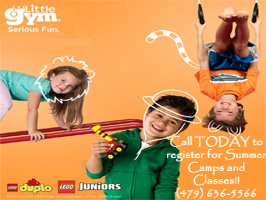 The Little Gym's philosophy revolves around developing kids' motor skills while building their self confidence. At The Little Gym of Rogers, owner Melanie Shannon takes a holistic "Three-Dimensional Learning" approach to skill development. This philosophy is based on three core tenets: "Get Moving" to foster flexibility, strength, balance and coordination; "Brain Boost" to nurture listening skills, concentration and decision making; and "Citizen Kid" to promote sharing, teamwork, cooperation and leadership abilities.
Summer camps will start in early June, so sign up now before the classes fill up! The camp themes will include:
June 2015:
♦ Super Kids' Quest: The Treasures of Magical Mountain (ages 3-8)
♦ Super Kids' Quest: The Missing Mermaid Palace (ages 3-8)
♦ Sports Spectacular!
♦ Superheroes!
July 2015:
♦ Fantasy Castle
♦ Hip, Hip, Hooray!
♦ Super Kids' Quest: The Dragon's Lair Slumber Party (ages 3-8)
♦ Super Kids' Quest: The Neat Ninja League (ages 3-8)
August 2015:
♦ Super Kids' Quest: The Secret Clue to the Baby Animal Zoo (ages 3-8)
♦ Super Kids' Quest: Green Beard's Pirate Ship (ages 3-8)
Click here to check out the dates for these fun gymnastics classes that will help your kids burn off some of that summer energy!

The Jones Center: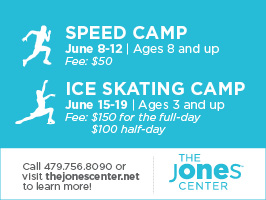 The Jones Center will offer a variety of camps this summer, including  Speed Camp and Ice Skating Camp. Here's a description of the events and a variety of options:
♦ Swim Lessons. The Razorbacks Aquatics Club is now accepting applications for swim lessons this summer at The Jones Center.  Classes fill up quickly. Contact coachkary@aquahawgs.org for more details or call 310-5292.
♦ Basic Skills Ice Skating Camp. The camp is offered June 15th-19th from 8am-4:30pm or 8am-12:30pm.  Full day fee is $150, half day fee is $100.  Participants will learn stretching exercises, presentation skills, beginner jumps & spins, and choreography. In addition, each skater will receive a camp t-shirt.
♦ Speed Camp. Partnering with Power Up & Dr. Michael Trexler for June 8th-12th offered 10am-11:20am for ages 8 to 11 and 11:30am-1pm for ages 12 & up.  The fee is $50.  This is an excellent camp for students athletes involved in soccer, baseball, hockey, football, basketball or track.
♦ Ballet. Creative Movement Ballet (Ages 3-5) introduces children to ballet techniques.  Offered on Mondays10:30am.  Beginner Ballet Level 1 (Ages 6-10) will help participants develop a foundation for ballet and proper ballet terminology.  Offered on Wednesdays 6:30pm.  Beginner Ballet Level 2 (Ages 10+) will help participants develop more advanced coordination skills as they focus on instructional discipline.  Offered on Wednesdays 7:30pm.  The monthly fee is $25.  For more details, contact Manna Torbett, Ballet Instructor mannajack@gmail.com.
♦ Summer Day Camp. Sign up now open for Camp War Eagle's premier Summer Day Camp at The Jones Center.  The camp for ages 7-11 will include fitness, sports & recreation activities, environmental science activities, cooking classes as well as team building & leadership skills. Breakfast and lunch are served every weekday. Both 2-week & 4-week sessions are available starting June 1st.  For an application, call 750-2006 or go online to www.thejonescenter.net.
Click here to find out more about Speed or Ice Skating camps at The Jones Center!

Kamp Kyya: Learn how to make chocolate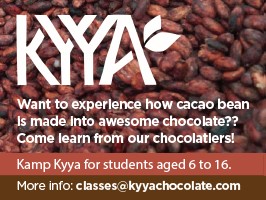 This year, kids ages 6 to 16 will have the unique opportunity to learn all about the chocolate-making process in fun summer camps at Kamp Kyya.
Kamp Kyya students will learn the entire chocolate making process including the decision of which cocao (pronounced ka-kow) beans to use, and how to mold the chocolate into bars and other confections once the chocolate-making process is complete.
The first class starts on June 1 and registration is open now. Space is limited and availability is on a first come, first serve basis for these sessions:
Session 1 – June 1 – 4
Session 2 – June 8 – 11
Session 3 – June 15 – 18
Session 4 – June 22 – 25
Session 5 — June 29 — July 2
Click here to fine out more about Kamp Kyya, which includes 4 days of instruction, practice and lots of chocolate to share!
Camp options for kids by category

:
Art Camps
Crystal Bridges Museum of American Art, Bentonville (classes for all ages. See above.)
Painting with a Twist, Fayetteville and Bentonville
Abrakadoodle Summer Art Camps, NWA
Arts Center of the Ozarks, Springdale
NWA Community Creative Center, Fayetteville
Imagine Art Studio, Rogers
Paper & Thread Studio, Fayetteville
Outdoorsy Camps
Ozark Natural Science Center
Be Active! summer camps, Fayetteville Parks and Recreation Department
Rogers Activity Center
Bentonville Parks & Recreation
Summer Golf Camp, First Tee of Northwest Arkansas
Dance Studios
The Art of Motion, Fayetteville
Bak Stage, Rogers
Infiniti, Bentonville
Gymnastics Studios
The Little Gym (themed summer classes in June, July and August. See above.)
Aspire Gymnastics Academy, Bentonville
Hopes & Dreams Gymnastics, Springdale
Williams Center, Fayetteville
Club Infiniti, Bentonville
All That Dance, Bentonville
Music/Drama
Summer Academy for Young Actors, TheatreSquared, Fayetteville (Classes for kids ages 10-12 and 13-18)
Trike Theatre, Bentonville
Arts Center of the Ozarks, Springdale
Arts Live Theatre, Fayetteville
School of Rock, Bentonville/Rogers
Northwest Arkansas Suzuki School of Music
Specialty Camps
Prism Education Center (summer-long programs or week-long summer camps are available, see above)
The Jones Center, Springdale (Speed Camp and Ice Skating Camp, see above)
Kamp KYYA, Elm Springs chocolate factory (learn how to make a bar of chocolate straight from the bean!)
First School, Fayetteville
Experience Robotics summer camps, Bentonville
Nerdies, NWA
Mad Science, NWA
University of Arkansas Volleyball Camp, 4th grade and up
Boys and Girls Club, Fayetteville
Bricks 4 Kidz, Fayetteville
Brick by Brick, Fayetteville
College of Engineering Summer Camps, University of Arkansas (4th grade and above)
NWA Mercy Family YMCA, Rogers (for kids who have completed kindergarten through 6th grade)
Football Camp, University of Arkansas (entering 1st grade up through high school)
Design Camp at the UofA Fay Jones School of Architecture (for students entering 9th grade)
Fast Lane Entertainment (one week in June, one week in July)
Grace Point Church, Bentonville (day camp for 1st through 5th grade)
Overnight camp
Camp War Eagle (Day camps + overnight)
Ozark Natural Science Center
New Life Ranch (overnights and day camps), Colcord, OK
Reading Programs/Summer events