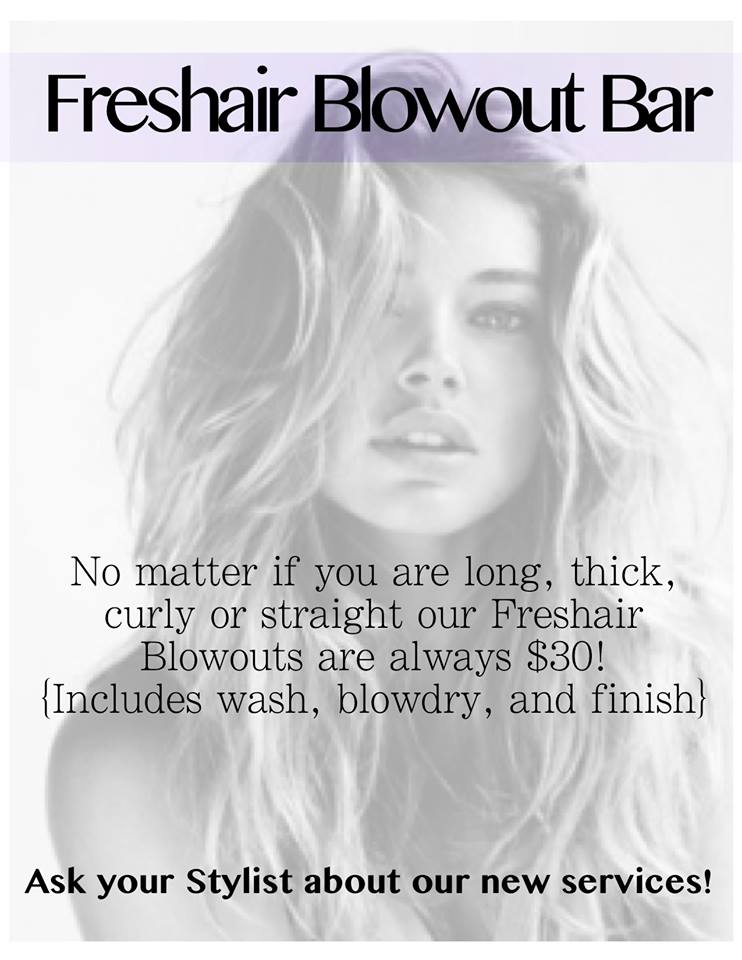 There's a new cure in town for bad hair days. Freshair Salon has opened a new "Blowout Bar!" Wildly popular in big cities, blowout bars offer a quick fix that takes your hair from ho-hum to amazing.
A blowout includes a wash, blow dry and finish by a professional stylist. And it doesn't matter if your hair is curly, straight, long or thick, blowouts cost a flat fee of $30 at Freshair's new Blowout Bar.
Some women get blowouts for special occasions, but they're a treat any time you need your hair to look great  — big meeting, family photo, anniversary dinner, first date, fun girls' night out, tailgate party, etc. Some women like to get a blowout service at the beginning of a busy weekend so that their hair will look good all weekend without lots of extra styling time.
If you'd like to know what tools and products you need to get a good blowout, click HERE to see the Blowout tutorial on the Freshair Facebook page. It lists tools and products used as well as step-by-step instructions for how the pro's do blowouts.
To book an appointment at the Freshair Blowout Bar, call 479-251-1877 or swing by their location at 210 W. Sunbridge in Fayetteville to see the boutique nestled into the salon's lobby. (It's full of really cute, fun accessories, Razorback stuff, gift items and lots more.) Have a happy hair day!