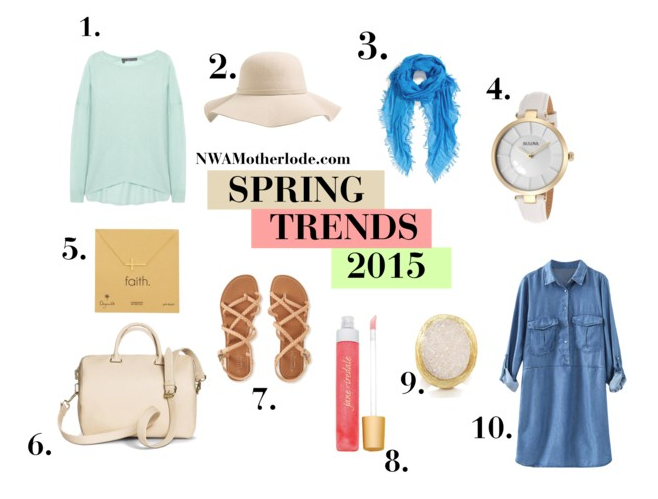 After a long, brutal winter, I'm SO ready for warmer weather, sunshine, and the cute clothes that come with these next couple months. I've been searching Pinterest, fashion blogs and magazines for the best trends this season, and I've come up with some key pieces you'll want to incorporate into your wardrobe this spring.
1. First thing on the list are spring sweaters. Sometimes March and April can be chilly, and a lightweight, pastel sweater is the perfect option. Pair this with boyfriend jeans or white jeans.
2. Next are hats! Hats are in, in, in. This cream hat is a perfect example. The color of the hat is springy and the style is right on trend. Pair this with a chambray dress.
3. Lightweight scarves are always great for spring. I love to add in accessories to mix up outfits. This blue scarf is bright and fun. I also love patterned scarfs, especially floral ones for spring.
4. This beautiful white and gold watch is perfect for spring because of its color and size. Leather straps are the absolute must-have watch trend. The white color is so different from the typical black or brown watch, so the look is more unique.
5. This faith necklace is delicate and girly – just like spring. A small gold necklace is a great edition to any spring outfit because it's subtle but eye-catching.
6. Nude totes – pay attention to this one because it it's a big spring trend. Any nude tote will work but the best part about this one? It's from Target! I adore Target clothes and accessories because they're always in style and affordable.
7. Sandals are always a spring must. These are from Aeropostle. Any sandals can be cute for spring but I love the light color and the straps on these. They're simple and cute and only $20. Grab a pair for yourself and your daughter.
8. Pink lip-gloss is on trend and I'm so thankful. Sometimes bold lip colors come in style and those can be hard to pull off. Soft pink lips are just right and this gloss is gorgeous!
9. Statement rings are a current love of mine. I wish I could buy every one I see! This one is gold and druzy. Druzy is very on-trend and this white one will go with everything.
10. Lastly, we have this chambray dress. The chambray dress is probably my favorite trend for spring. You can find these online or at Old Navy and Gap or Target. This is a staple item for your closet. You can wear it with boots or sandals, depending on the weather, and it's perfect for lunches, church, work or family gatherings.
Hope these ideas help inspire your Spring wardrobe. Enjoy the sunshine, mamas!