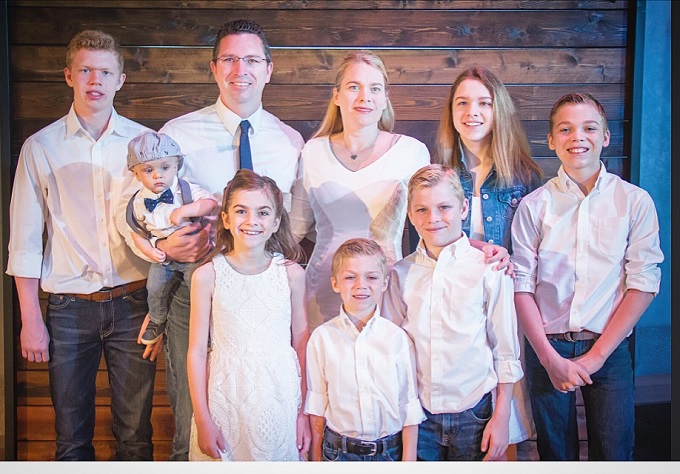 Name: Christina Sluyter
Kid's names and ages:
Ethan 15, Grace 14, Luke 12, Tessa 10, Zane 8, Owen 6, Reed 10 months old
What are the best things about having such a big family?
Everyone learns at an early age how to get along with others. They also always have someone to play with, help them, stand up for them. Built in best friends!
What's the most challenging?
Getting quality time with each one.  My husband and I make a point of finding something that each one loves to do and spend time with them doing that.  Whether it be a sport or activity or reading books.
Do you have any fun summer plans with the kids?
Our boys LOVE football so we have several football camps that we are attending this summer. We spend every Sunday afternoon after church on the boat at the lake.
Where are your favorite places to play in NWA?
Tanyard creek in Bella Vista, the kids love the waterfall and the hiking trails. The Razorback greenway and we see a lot of movies during the summer so Malco theater at the Promenade.
We hear you decorate some pretty awesome cakes. We'd love to know more!

I started decorating cakes for the kids' birthdays and the more I did the more people asked what kind of cake I was making instead of what the child wanted as a gift.
I started making them for friends and family and have had the pleasure of becoming a part of people's lives through cake.
I was a part of their wedding, first child, and kids' birthdays.  It's pretty amazing thing when you bring someone joy through something you enjoy doing!
It has also become a part of my identity. I'm not just a wife, not just a mother, but I have an interest that's all mine.  I think every mother needs something like that, a Zen thing if you know what I mean.
What was the last thing you laughed out loud about?
Our house is full of laughter!
You have to have a sense of humor with kids, especially when you're outnumbered or else you'd lose it! My kids have great comedic timing! Whether it's an obscure movie reference or an impersonation they keep me laughing all day!
If you could vacation anywhere in the world this summer, where would you go?
I've always wanted to take the kids to Israel.  The travel in the footsteps of Jesus.
If you could magically have a new skill, what would it be?
I would love to be able to cook the way I bake!
People automatically think since I bake these yummy treats that I can cook, but so not true! I'm awesome at sweet, terrible at savory!
What's something your friends might not know about you?
My husband and I love to swing dance. He entered several competitions before we met and he taught me. We love going to weddings and events where there is dancing so we can show off.
What's your go-to when you need some down time?
Riding the bike with my hubby! Time together is a MUST and working out together is so much fun!
What's one thing you'd want people to remember about you?
My faith. My love for my Savior and my willingness to share it with others!
One word to sum me up:
I went to the kids on this one, which I totally recommend to all Moms because I felt pretty good about myself after this!
Ethan said creative
Grace said determined
Luke said hardworking
Tessa said amazing
Zane said helpful
Owen said Mom
Reed has no input as of yet…
I have to admit Owen hit the nail on the head! I'm Mom and I couldn't be happier being anything else!!