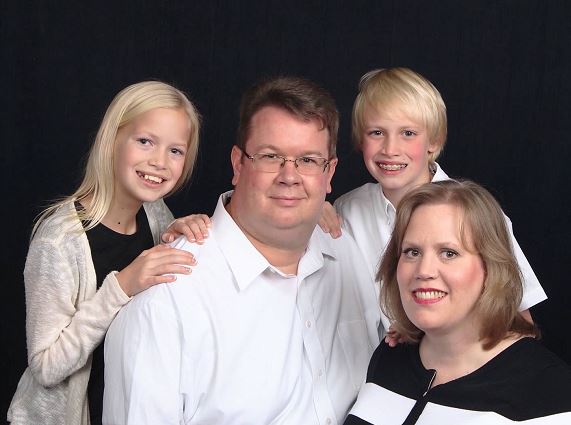 Name: Laurie Miller
Kids' names and ages?
Ashley is age 12, and Michael is age 11.
How long have you lived in NWA and what brought you here?
10 years; We came for my husband's job with Walmart.
Can you tell us about your new ministry for moms with chronic illnesses?
It's a group for moms with chronic pain or illness that meets regularly for food and friendship.
Having a chronic illness is very isolating, as you tend to disengage from the community around you. Friendships can fade because you no longer have the same things in common, and you can't participate in as many activities any more.
I wanted to create a group where women with chronic illness can make friends with other moms who understand life, parenting, and being a wife with chronic illness.
What prompted you to start the organization?
Eight years ago I was diagnosed with chronic fatigue and fibromyalgia. When researching for help and support, I found that there were a lot of resources for physical wellness with chronic illness, but not a lot for emotional and spiritual encouragement and resources. I started writing articles about life with different aspects of chronic illness that were published in an online group that I had joined.
Eventually I started a Facebook page called God-Living with Chronic Illness. More recently I created a website with the same name where I will be focusing on providing spiritual encouragement and resources for people with chronic illness.
For several years, I have wanted to have intentional friendships with women who also lived with and understood chronic illness, so that is how the group "God-Living Girls" was born. We chat online regularly and meet when we can for fellowship and just good, plain fun.

We want to open this group up to any mom in the area with chronic pain or illness, whether that illness takes the form of migraines, diabetes, chronic pain, autoimmune issues, or something else, all are welcome.
When is your next public meeting and what will happen at the event?
Friday, May 29th, from 6-9 pm we will be having a Meet & Greet at Panera Bread at 1320 Walton in Bentonville.
We are going to enjoy food and fellowship, and will also have a massage therapist giving 5-minute neck messages to anyone who wants one. All are welcome, and are asked to RSVP to me at 479-381-5347 if they can attend. We will be meeting every 4th Friday for food and fellowship.
What does a typical day in your life look like?
I get the kids up and off to school and then on Mondays, Tuesdays, and every other Wednesday I go to work at Washington Regional Medical Center as a Diabetes Educator. I am an RN and work part-time. When I am not working, I rest a lot so I can have energy to work and spend quality time with my kids and husband. Somewhere in there, I try to keep up with laundry and the housework.
Where do you enjoy hanging out with your family in NWA?
We eat out a lot and go to Barnes & Noble, and the kids love High Rise, of course. My daughter plays soccer, so we go to her games. We play a lot of board games at home, too, and have Nerf Gun Wars.
Which songs are your favorites for getting motivated?
I love KLRC, and am especially encouraged by the song "Blessings" by Laura Story. It is about how God can use the most difficult of circumstances in our lives to bring us blessings. I have definitely found that to be true in my life.
What's the best part of motherhood for you?
Getting to know the people my children are becoming and getting to invest in their lives for good.
If you could vacation anywhere in the world this summer, where would it be?
London– I love the castles and palaces, and I love getting to know people from a different culture. And the shopping at Harrods!
What's something you have always wanted to learn?
To play the piano and sing. I love to sing, but I don't know if other people love to hear me sing!
What three things do you always have with you?
Purse, cell phone, and lipstick.
What's one of your favorite guilty pleasures?
Shopping! I can spend money with the best of them. (Not always good for the budget, though…)
One word to sum me up …
I wasn't sure how to answer that question, so with fear and trepidation, I asked my daughter and braced myself for her answer. She said "loving", and I hope that will always be true in my life. I want to show others the love that God has shown me.
People with chronic illness or other difficulties tend to think that God is harsh and must be punishing them, but I think that God's tears mingle with our own when we go through tough times.
He cares about us and tells us in the Bible that He collects our tears in a bottle. He also tells us that He will provide for us and take care of us and that we can bring all our anxiety and worry to Him.
That is the message I want to hold up like a banner to those who are hurting. God loves you, has not abandoned you, and wants to provide you hope and joy despite the difficulty in your lives.