We had a GREAT day at the 16th Annual Northwest Arkansas Business Women's Conference on Tuesday, September 16th. There was a full house at the John Q. Hammons Convention Center in Rogers, with more than 1,200 women in attendance. (If you missed this year's conference and want to go to the next one, be sure to buy tickets early because it ALWAYS sells out early!)
We hosted a nwaMotherlode booth and gave away a really cute Halloween wreath custom designed by Teresa Huddleston (who also designs the fabulous decor at the NWA Mom Prom.) Dilynn Dodd, Assistant Vice President with Farm Credit of Western Arkansas, was the lucky lady whose name we pulled out of a very full bowl of entry slips. Congrats Dilynn! Hope you enjoy the wreath this Halloween season.
(Dilynn and her new wreath are pictured below.)
We took one of the "celebrity prom dates" from this year's Mom Prom and brought him along to the Business Women's Conference. Channing Tatum was already wearing a business suit, so we figured he'd fit right in with this group of fashionable business women. Several ladies stopped by and snapped a few selfies while standing next to Channing. Here's a photo collage of some of the fun people we met who cozied up to Channing.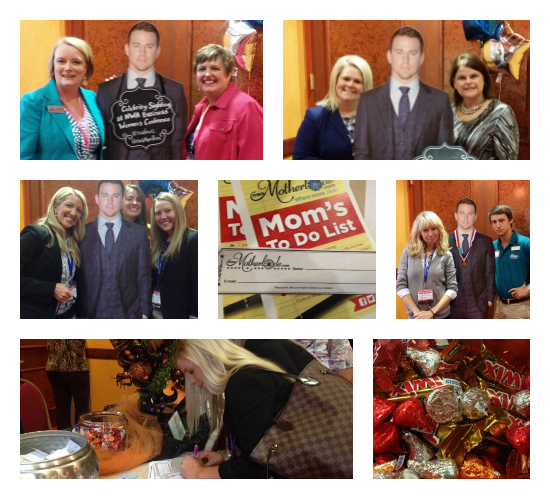 We met so many wonderful women who live and work here in Northwest Arkansas. Thank you to all those who dropped by our booth to say hello and throw your name in the drawing. Hope you enjoyed the conference as much as we did.