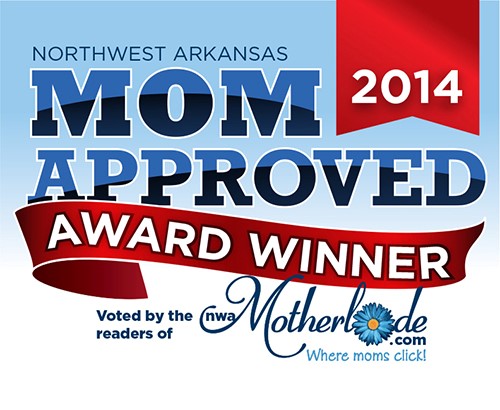 We ask moms to vote in the Mom-Approved Business Awards because we know that moms always pick the best of the best. Moms have such high standards when it comes to service, value, atmosphere and overall customer experience. And we moms are especially picky when it comes to choosing the right spot to celebrate something as important as our kid's birthday.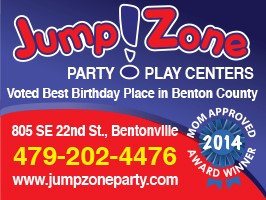 For the second year in a row, Jump!Zone has won the "Best Birthday Place" category for Benton County in the Mom-Approved Business Awards. (Congrats to the owner and staff at Jump!Zone for another stellar year that earned you so many votes!)
My kids and I have been going to Jump!Zone for more than six years and have had birthday parties there as well. They're at 805 SE 22nd St. in Bentonville.
Here are some of the perks that make this place SO popular with kids and moms.
Jumping! The inflatables give kids a fun, safe place to use up all that extra energy (and we all know how much EXTRA energy they have when there's a birthday party involved). They can run, jump, squeal, slide and be as silly as they want to be with their friends. (The huge pirate ship with octopus inflatable is still my kids' favorite thing to play on at Jump!Zone.)
Mom-Friendly: Moms can hang out nearby and watch the action. There are benches to sit and visit with other parents and there's also free Wi-Fi, so you can answer a few emails or catch up on your social media news feed.
Party rooms! The party rooms are big, clean and have great lighting so you can get good birthday party snapshots.
Party HELP! You always get a birthday party helper so you're not alone when you're trying to serve cake, pour juice, take pictures and write down who gave which gift. That extra pair of hands is SUCH a big help.
No clean-up: Let's admit it. Part of the reason some of us choose to have birthdays away from home is because we'd like our home to still be standing and not covered in cake frosting and party confetti. Jump!Zone handles all the clean-up after the party, so you're free to pack up those birthday gifts and hit the road.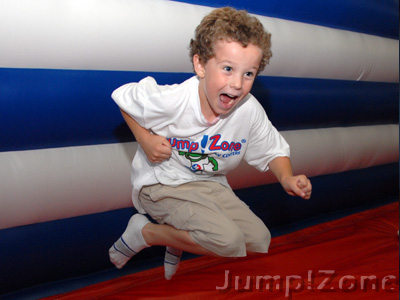 If you've got a birthday party to plan and need a place to do it, we'd suggest you go check out Jump!Zone during one of their Open Play sessions. We have a feeling that, once your kids get a taste of it, they'll be begging to do their birthday party there.
Discount alert! There is a "Back-to-School" coupon available right now at Jump!Zone that can be used to book a birthday party any time this year OR next year. It gets you $40 off of a 15, 20 or 25-kid party package. It also adds an extra pizza to the package (in addition to the pizzas already included.) (Be aware that you can't combine this coupon with other coupons.) If you want to use the coupon online to book a party, the coupon code is bk2skl14. (The coupon expires on Sept. 19, 2014.)

Click HERE to see more on birthday party options at Jump!Zone, and remember that you don't have to wait for a party to go play! Click HERE to see the calendar of Open Play times and print it out to keep on your fridge. When the weather gets ugly and you need a way for the kids to burn off energy, THIS is your answer.