Yes, we do love a little celebrity gossip but we also know it's not cool to do something we teach our kids NOT to do. It's never okay to indulge in stuff meant to humiliate or hurt another person. That's why we came up with the concept of "Good Gossip," which is celeb news minus any mean stuff. Have as much as you want because this "dish" is all guilt-free.
As always, this feature is sponsored by Great Day Farms, a national brand based right here in NWA. Look for their products at the Walmart Supercenter. Click HERE to like them and get coupons on their Facebook page.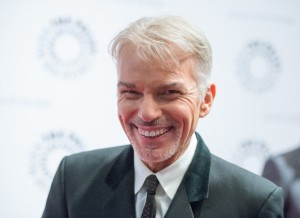 Picture this: Billy Bob Thornton as a ladybug. He said that his 9-year-old daughter, Bella, wants to be an entomologist so she's really into insects like butterflies and caterpillars. Last Halloween, she dressed up as a monarch butterfly and her dad went as a ladybug. "That doesn't really look like me, but I did it. I strapped on the wings and everything." Way to go, Dad.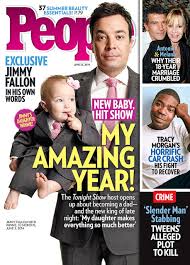 You've got to see the SUPER cute pictures of Jimmy Fallon's baby girl, Winnie, featured in the latest issue of People magazine. She is a doll and you can tell her famous father, now referred to as the king of late-night, is totally in love with her. Jimmy and his wife, Nancy, struggled with infertility and miscarriages for five years before giving birth to their daughter via surrogate. Jimmy said he went through an ultra overprotective phase at first, sleeping in the baby's room to make sure she was breathing. (Been there and done that!) Now he's okay with using the monitor and he is realizing that babies are more durable than he thought. And a LOT of fun. He said, "I knew it was going to be fun. But I didn't think being a dad was going to be this fun."
Chris Powell, celebrity trainer and star of Extreme Makeover Weight Loss, is also a father to four. When he married his wife, she was already a mom to two kids who were then 2 and 3 years old. He said they "showed him the ropes." And now two more kids have joined the blended family of two boys and two girls, ages 9, 7, 3 and 7 months. Believe it or not, Chris said that he and his wife don't restrict anything. "We focus on healthy foods first, but there are cookies in the house. There's a candy jar." He said that, more than anything, they try to give their kids a healthy lead to follow. "More than anything, kids want to do what you do."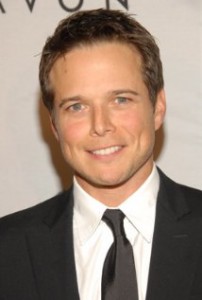 Scott Wolf (formerly of Party of Five and Everwood) just got a healthy dose of pink in his life. The father of two boys just welcomed a new baby into the family — a baby girl named Lucy. "The fact it was a girl made our third child feel like our first all over again. This has been a blue house with trucks, planes and dirt, and suddenly there's pink!" Scott is now starring in Perception and The Night Shift.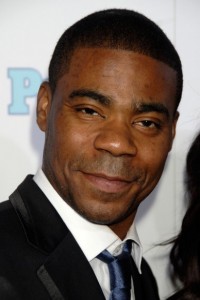 Another famous father — comedian Tracy Morgan — is thankfully on the mend following a car accident that killed one of Tracy's friends and mentors. Among other injuries, Tracy suffered a broken leg, nose and ribs and has undergone surgery. In an interview a few days before the accident, Tracy said, "When I look at all four of my kids, I say to myself, 'God gave us dreams, but he gave us babies to make all those dreams worthwhile.'"
Source: People magazine, June 23, 2014 issue

Good Gossip is sponsored by CCF Brands, a Northwest Arkansas company which makes Great Day All Natural Eggs. These eggs are produced by happy hens who are fed premium vegetarian diets with no animal fats, animal by-products, or antibiotics. Great Day Farms also offers hard-boiled eggs, which you can find in the deli section of the Walmart Supercenter. (Love the hard-boiled eggs because they're peeled and ready to eat! Perfect in salads.)