Yes, we do love a little celebrity gossip but we also know it's not cool to do something we teach our kids NOT to do. It's never okay to indulge in stuff meant to humiliate or hurt another person. That's why we came up with the concept of "Good Gossip," which is celeb news minus any mean stuff. Have as much as you want because this "dish" is all guilt-free.
As always, this feature is sponsored by Great Day Farms, a national brand based right here in NWA. Look for their products at the Walmart Supercenter. Click HERE to like them and get coupons on their Facebook page.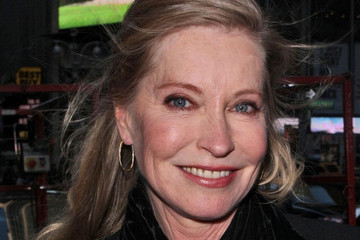 This is happy news about Lisa Niemi, actress and dancer, who lost her husband Patrick Swayze to pancreatic cancer in 2009. Lisa was recently remarried to Albert DPrisco, a jeweler. They held the ceremony in Palm Beach, Florida, with 50 guests attending. Lisa said that her new husband "…knew I still loved Patrick but told me, 'I'm here to love you now.'" She says that when she looks into their future together, all she sees is happiness. Congrats to the new couple.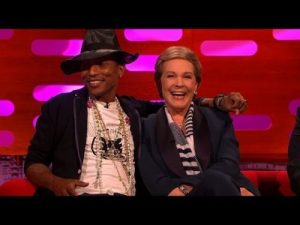 There's a picture in the most recent issue of People magazine we never expected to see. Julie Andrews (of The Sound of Music fame) is photographed with Pharrell Williams, who rocketed to fame with his song "Happy." The two appeared on a show together in London, and Pharrell obviously knew he was in the company of a musical legend because he said "It's a pleasure to be sitting here with someone with such incredible, rich, regal music history."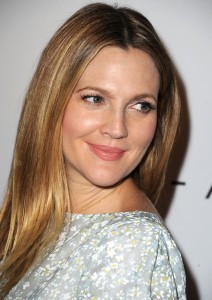 We love how Drew Barrymore described her body during her second pregnancy with her new baby daughter, Frankie. "And your body just goes right back to being pregnant; it's like memory foam! I looked heavy and pregnant and swollen, like, the minute I found out." We know exactly what you mean, Drew! She also said that, while she was pregnant both times, she craved white flour, Chinese food and pizza and couldn't stand fish or vegetables. But as soon as she gave birth both times, she went back to really liking fish and vegetables.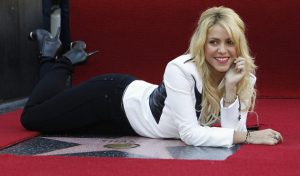 We also love what new mom Shakira says about her post-pregnancy body.  (She said she lost baby weight by doing Zumba five days a week after her son was born.) "I don't obsess over my flaws because I see my body as a whole. Besides, I think men appreciate confidence more than perfection." Amen, sister!
Source: People magazine, June 2nd and June 9th, 2014 issue

Good Gossip is sponsored by CCF Brands, a Northwest Arkansas company which makes Great Day All Natural Eggs. These eggs are produced by happy hens who are fed premium vegetarian diets with no animal fats, animal by-products, or antibiotics. Great Day Farms also offers hard-boiled eggs, which you can find in the deli section of the Walmart Supercenter. (Love the hard-boiled eggs because they're peeled and ready to eat! Perfect in salads.)