Okay, we admit it. We love a little celebrity gossip but don't want to do something we teach our kids not to do. It's never good to indulge in stuff meant to humiliate or hurt another person. That's why we came up with the concept of "Good Gossip," which is celeb news minus any mean stuff. Have as much as you want because this "dish" is all guilt-free.
As always, this feature is sponsored by Great Day Farms, a national brand based right here in NWA. Look for their products at the Walmart Supercenter. Click HERE to like them and get coupons on their Facebook page.

Did we mention that Great Day Farms is once again the lead sponsor for the NWA Mom Prom? It's scheduled for April 26, 2014. Get the details at www.nwaMomProm.com. Tickets go on sale Saturday, March 1st!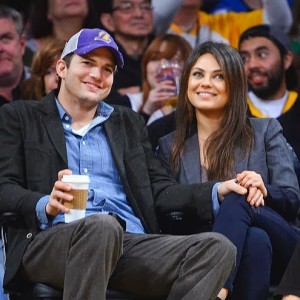 Well, we finally got those two crazy kids together. Sources say Ashton Kutcher and Mila Kunis have been engaged for several weeks now but they kept the news hush hush because two other members of their families had recent weddings and they didn't want to steal any thunder from those happy events. Her ring is a simple band with a round diamond — beautiful but not overly flashy. Friends of the couple say they both want to have kids and both have a love for adventure and travel. Ashton and Mila played a (very young) couple in love from 1998 to 2006 on That 70s Show.
Looks like George Clooney (swoon) has a new girlfriend. This one is younger than him (no surprise there) but she's not in the entertainment or modeling business. Her name is Amal Alamuddin and she is a 36-year-old lawyer in London who specializes in international law and human rights cases. She has a law degree from Oxford University and a master's degree from the New York University School of Law. She also speaks French, Arabic and English. Impressive girlfriend, George!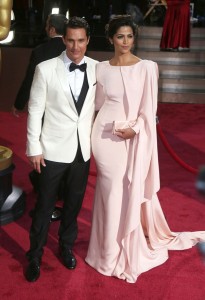 Behind the Best Actor Oscar award winner is a very supportive spouse! Camila McConaughey, wife of Matthew McConaughey and mother of their 3 kids, spent a lot of time on set with her husband while he was shooting his Oscar-worthy performance in Dallas Buyers Club. She helped with his grueling diet that made him skinny enough to play the role of a man suffering from AIDS. Known for her rock-solid support of Matthew and their kids, she even made sure her gown for the Oscars wasn't going to take the spotlight off the Oscar nominee. "Going all crazy wouldn't be respectful. You have to coordinate but not be matchy-matchy," she said. When her husband wore green velvet at the Golden Globes, she ditched the red dress she had planned to wear because she didn't want their look to resemble at Christmas tree.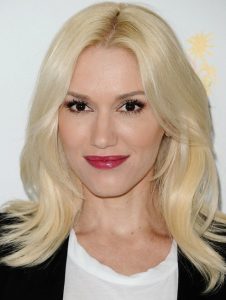 Gwen Stefani and her husband Gavin Rossdale just welcomed their third baby boy to the family. His name is Apollo Bowie Flynn. (The names Bowie and Flynn are taken from the couples' mothers' maiden names.) The new baby joins big brothers Kingston and Zuma.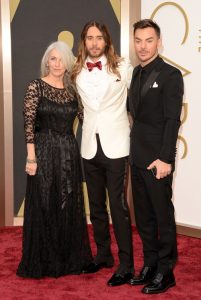 Moms at the Oscars! Here's a list of some of the celebs who brought their moms to the biggest award show on the planet this year: Jared Leto (loved that speech of his! He and his brother and their mom are pictured on the right); Leonardo DiCaprio, Jonah Hill, Michael Fassbender and Charlize Theron. Whoopi Goldberg and Jamie Foxx both brought their adult daughters to the Oscars.
Source: People magazine, March 17, 2014 issue
Good Gossip is sponsored by CCF Brands, a Northwest Arkansas company which makes Great Day All Natural Eggs. These eggs are produced by happy hens who are fed premium vegetarian diets with no animal fats, animal by-products, or antibiotics. Great Day Farms also offers hard-boiled eggs, which you can find in the deli section of the Walmart Supercenter. (Love the hard-boiled eggs because they're peeled and ready to eat! Perfect in salads.)