So did you hear the fabulous news that Theraderm Clinical Skin Care is our NWA Mom Prom lounge sponsor?
Not only will you have a lovely lounge to take a break from dancing on Prom Night, there will also be great products waiting for you there to smooth your hands and give you luscious lips. (Note that there won't be anyone selling anything in the Lounge, so you won't need to feel any pressure to buy anything. This is simply a chance for a local company to show off some great products and offer local moms some pampering treatments. There will be a few samples in the Mom Prom Swag Bags for you to take home, as well as info on how to get more, if you fall in love with the products.)

*Read to the bottom for a surprise.

These products are cosmetic grade and the story behind  how they were originally formulated is so cool!

The awesome Theraderm backstory: Dr. James Beckman, the company's founder and CEO, started the line of products while he was a plastic and reconstructive surgeon, working with patients who had been severely burned.
Dr. Beckman wanted to improve the quality of life for his patients. He wanted to help restore full function and mobility to their skin-grafted hands, which led to Beckman's Skin Care Cream.
In further developing this highly-specialized restorative crème in 1989, a new ingredient was discovered that greatly enhanced moisturizer penetration, but had the unique side effect of decreasing the appearance of fine lines and wrinkles. Yeah, baby!
Patients used the specialty cream with this second product containing the newly-discovered ingredient. Many began reporting not only that the effects of the moisturizer were enhanced, but also that they had noticed a disappearance in wrinkles and a more youthful look to their skin.
It was a natural progression to create Therapon Skin Health, a company that supplied these products to other physicians. The two primary products led to the creation of the Theraderm Skin Renewal System, a daily skincare system designed to restore skin health and uncover natural beauty while enhancing skin's natural ability to restore itself.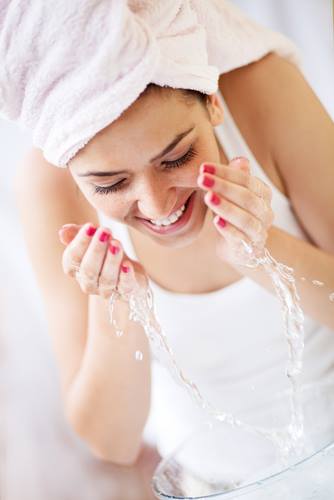 Theraderm has a travel version of the daily *Skin Renewal System that Gwen and I have used and loved.
You can actually put these little travel sets in your suitcase (TSA compliant). The trial sizes are the same 4 products that have been formulated to use every day:
Cleansing Wash
Fruit Acid with Application Pads
OPC Reparative Gel
Moisturizer
This is an anti-aging system that only takes four minutes to do. We actually timed it and it can be done in less on days you gotta get out the door fast
Well, guess what, ladies? *The first 100 who buy a ticket to the Mom Prom will receive one of these travel sets for FREE! Surprise! Tickets go on sale TOMORROW (March 1st) at www.nwaMomProm.com. We'll share more details soon about how you can snag your travel bag. And don't forget: you'll get to play with some of the Theraderm products when you're hanging out in the Theraderm Mom Prom Lounge. Woo-hoo! We've got all kinds of extras planned for this year's prom.
Aren't the travel sets cute? See:
Show Theraderm some love and go visit their website to look around at all the amazing products they have for improving skin — including problem areas like acne, dark circles, puffy eyes and wrinkles  — and lovelier lips. Click here to visit their website. They always have great discounts and offers, so be sure to follow them HERE on Facebook to take advantage of those!
Thanks, Theraderm!