When women and moms are looking for their next home, the kitchen is typically the room at the top of the "most important" list. Not only is it where families and friends tend to gather, it's also home to some of the most hard-working machines in our lives – the appliances.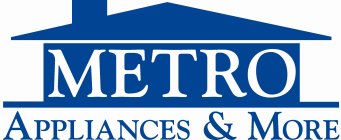 Here's a rundown of five current trends in household appliances, as noted in a recent report released by General Electric. To see the latest appliances showcasing each of the following trends, we recommend you check out the HUGE showroom at our favorite appliance store, Metro Appliances & More. The sales staff at Metro is educated on the latest advancements in appliance design but they're never pushy. We love that, and it's nice to know that real customer service is NOT dead.
Trend 1: Traditional gives way to Transitional
For years, a traditional look ranked first in surveys done by the National Kitchen and Bath Association. But this year, for the first time ever, traditional has given up its top-dog status and "transitional" is now the new leader.
Transitional style combines both traditional and contemporary. The look is classic, but with cleaner lines than typically found in traditional styling. Yet transitional is a touch more elaborate than the "bare bones" look of contemporary design.
Trend 2: Farewell to stainless steel?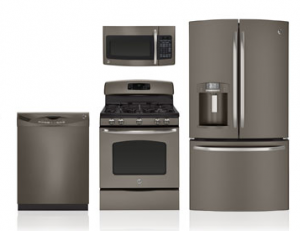 It's too soon to say goodbye to stainless steel appliances. After all, they've been considered the premium finish for nearly 20 years. But research shows that more consumers are looking for different options. In late 2012, General Electric launched a new finish called "slate," which is described as a "warm grey, low-gloss metallic hue."
Customer reaction was as warm as the new color. After the launch, GE executives said they doubled the number of products in the slate finish for 2013 to meet consumer demand.
Trend 3: American-made, please
Even the most conscientious price shoppers have come to realize how important it is to buy American-made products whenever possible. Six out of 10 Americans said they would even pay more for an American-made product, according to a May 2013 Gallup poll.
With labor costs increasing in China, more U.S. companies are bringing their manufacturing facilities back to American soil. GE, for example, said they'd invest $1 billion through 2014 to revitalize the company's American manufacturing business.
Trend 4: Ergonomic improvements
There are plenty of people who think doing laundry is a pain in the neck. But for a growing number of older people, the bending and stooping involved in loading and unloading machines causes real pain. As the Baby Boomers continue to age, manufacturers are modifying appliances to make them more ergonomically friendly and easier for an aging population to use.
GE recently introduced a front-loading washer and dryer with "RightHeight" design, with larger openings and a built-in riser to minimize the need for reaching and bending.
Trend 5: Three little letters – L.E.D.
Goodbye fluorescent lights! Hello L.E.D. A survey done in 2012 by the National Kitchen and Bath Association shows that 70 percent of kitchen designers are asking for appliances with energy-efficient L.E.D. lights instead of fluorescents.
Not only can the right kind of lighting alter a room's mood, it can also tell you how cold the crisper drawer is. One of GE's newest French door refrigerators has colored lights in the drawers which remind users what temperature they've selected.
For more information, click here to see the complete GE report.
Dacor's new Discovery iQ 30″ Wall Oven allows home chefs to monitor and control their ovens using Android or iOS (Apple) smartphones and tablets. This means you can put a roast in the oven, select a preloaded recipe or find a new one online, and then sit back and relax while you wait for the text message alert letting you know dinner is ready!