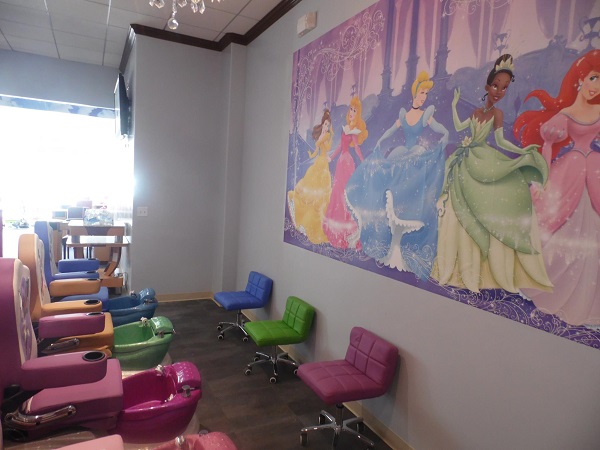 The new Mommy & Me Nail Salon at Pinnacle Promenade Mall has some special deals going on right now.
Owner Natalie Phan said they're offering 40% off full sets of acrylic nails plus 20% off pedicures through the end of the year. The salon also hosts birthday parties and offers a discount when six or more kids receive mani/pedis. They provide the birthday decor, plates, napkins, utensils, drinks and cups. The birthday girl even gets a special princess crown.
What we love about this salon (next to Build-a-Bear) is that it's convenient — right now you can stop by while you're already out Christmas shopping — and that it's big enough to accommodate lots of people. Including little people!
Kids have their own special area at this nail salon. It has chairs that are just their size, a Disney princess mural and even a television so they can watch movies while they're getting their nails done. When kids get their nails done, they're served a complimentary drink — apple juice, apple cider or hot cocoa.
Here's the kid area and also notice the cute holiday nail art you can request when you stop by for a mani/pedi: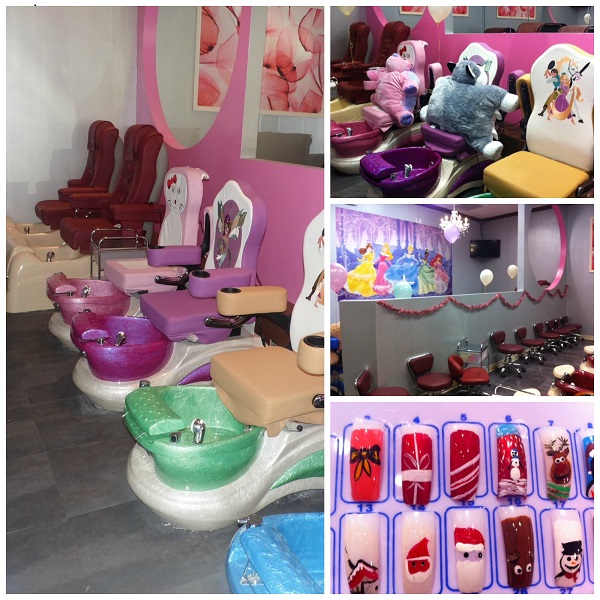 What's great is you don't have to try to work out a time to get your nails done while the kids aren't with you. They can get a little treat, too, and mom will be able to enjoy the experience.
Of course, you don't need to have your kids in tow when you stop by Mommy & Me — or even be a mom, for that matter
We'd like to personally congratulate Natalie on her second nail salon location at the Promenade (she also owns the Solace salon at White Oak Station in Rogers). No appointment is necessary, so stop by Mommy & Me next to Build-A-Bear to get your nails Christmas ready. Or you can call at 479-903-7033.