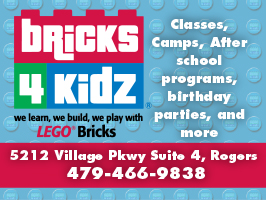 Bricks 4 Kidz has officially moved to Village on the Creeks, Suite 4, in Rogers.
Owner and mom of 4, Shaista Sandhu, has some great Bricks 4 Kidz programming scheduled for November.
There will be a Kidz Night Out on Nov. 15 and there will also be activities during the week of Thanksgiving when the kids are out of school. And on the day after Thanksgiving, when stores have all those sales? Bricks 4 Kidz has a Drop-In Day Camp for kids from 7 a.m. to 5 p.m. on Black Friday so parents can go shopping! What a great idea.
Click here to see more about these and other upcoming events.
Bricks 4 Kidz classes provide an awesome atmosphere for children to learn, build and play with LEGO® bricks. Programs are built around our proprietary model plans, designed by engineers and architects, with exciting themes such as space, construction, and amusement parks. The specially designed project kits and theme-based models provide the building blocks for the Bricks 4 Kidz approach to educational play. Bricks 4 Kidz instructors believe that kids learn best through activities that engage their curiosity and creativity.
Bricks 4 Kids serves students from all over Northwest Arkansas and offers activities for children 3-13+. They have Mommy and Me classes, Year Round Camps, Daycare Trips and Saturday classes.
Oh, and they also host Lego birthday parties! How much fun would your kid have with that? Click here for more info.

Call Shaista at 479-466-9838 or click here to visit the local Bricks 4 Kidz website.