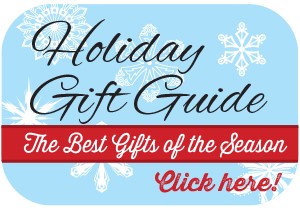 Mamas, have you started writing your Christmas lists yet?
We know it feels a little early to be thinking about it right now, but we've only got about 10 weeks from today to get all that shopping done. Yes, we're serious!
That's why we created a little sister site to help you out. The nwaMotherlode Gift Guide showcases some of the best gift ideas of this holiday season with photos and short descriptions of great stuff you can find right here in NWA.
Just click on the navigation bar to find gifts "for him," "for her," or "for kids." If a gift item is good for either men or women, young or old, you'll find it tagged in multiple categories.
We've also rounded up a handy little list of creative ways to wrap gifts, many suggested by local crafty mamas. Click here for gift-wrapping inspiration!
We also know that the task of planning, shopping, buying and wrapping gifts can seem overwhelming when you try to keep it all straight in your head and remember all the details. But it instantly becomes much more doable once you get it down on paper.
So we've come up with a handy Christmas List template you can use to get your shopping organized this year. Just print out a copy (or two or three, depending on how long your list will be this year).
You'll notice we included some little check mark boxes so you'll be able to mark which gifts have been bought, wrapped and delivered and/or mailed. Just keep in your purse to keep track of purchases and be reminded of who's still left on your list.
We love all the ideas in the guide so far, including these from some awesome Northwest Arkansas businesses (check back often for new gift ideas):
Fleet Feet Fayetteville: Great gifts for runners and fitness fans
Rock City Outfitters: We love a fun t-shirt!
Sisters Boutique: Have you heard of Chew Beads or Kneekers?

Norma Dillard: Custom Hairbows
The Haley Boutique: Find your new favorite outfit!

The Pink Tomato Boutique: Cute work clothes!
Books Galore: Written by Arkansas authors
Favorite Things: A few of the mamas' favorite things
Give an Experience: A gift that lasts FOREVER
If you're a business owner who would like to get your great gift idea in front of local moms in the Gift Guide, click here for more information.