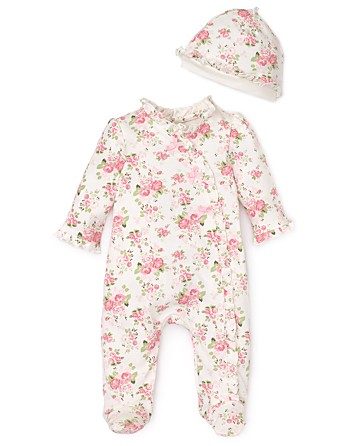 We were recently approached by the company Little Me about reviewing some of their children's clothing. Since we don't have baby babies — and because we love involving Motherlode readers in all that we do here — we sent out a call for mama reviewers.
Jamie Hunter said she and her sweet baby Lia would love to review the Cabbage Rose printed one-piece footed sleeper, matching hat and blanket.
Description: The adorable one-piece footie is decorated with soft ruffles and asymmetrical front closure, includes matching hat. Outfit is 100% cotton, and snaps from the neckline to feet for easy dressing. Long sleeves are perfect for extra comfort. This footie and hat set features a sophisticated floral theme.
For the record, Little Me also has some adorable boy clothes. We're partial to these long-sleeved shirts with motorcycles for the fall: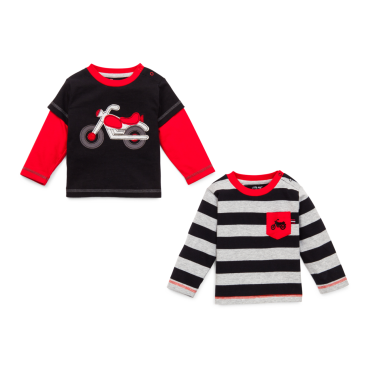 But back to the girlie cuteness.
Jamie says of the Little Me footie: "I've always had a liking for vintage style baby clothes and this Little Me jammie set (blanket and cap included) hit home for me. It fit my baby comfortably and was very soft.
Added bonus is the print on the fabric!  I'm not much into bonnets and caps with jammies, but might be if my daughter had less hair! The blanket will be great when she is a little older; I see her toting it around like a little "lovey" already. In a nutshell, I love this product and would purchase as a gift or for my children again."
And here are some pics of sweet Lia wearing her Little Me outfit:
About Jamie Hunter: I'm originally from Iowa and moved here a year after college for work, and met my husband, Mark, a few months later. We have 2 beautiful daughters who are full of life Nora (3.5yrs) and Lia (6mo). I am currently a stay at home mom. I do contract work from home in the supplier community on an as needed and as available basis. My husband works at Allen Canning Company in Siloam Springs. My absolute favorite thing to do is decorate and create projects. I'm a huge fan of Pinterest! I watch HGTV daily and am very inspired by it. We have 2 dogs, Peanut (Yorkie) and Jake (Golden Retriever). We love to take them to the local creeks when it's not too hot. We love to boat and be outdoors.
Note from the mamas: We were not compensated for posting this Little Me product review. Motherlode reader Jamie Hunter received the footie, hat and blanket in exchange for her her honest feedback about the outfit.