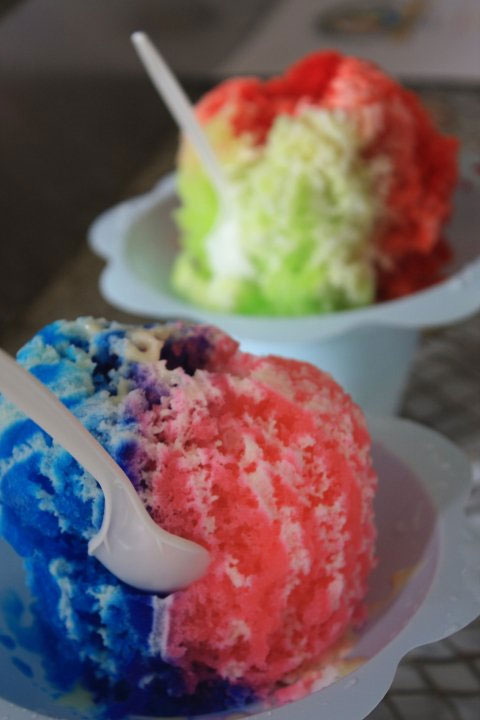 There seems to be a snow cone stand on every corner, which makes us HAPPY. We love a sweet, syrupy snow cone in the summer!
That said, we polled our Facebook friends to find the best snow cones in NWA. They suggested several great ones plus we went out and did a little research of our own over the weekend.
We found these cuties at Shave the Planet (in the Hobby Lobby parking lot) on College Avenue in Fayetteville. They are eating Funky Monkey, Invisible Cherry and Root Beer. Isn't "invisible" cherry a genius idea? Right after we snapped this pic, the little girl in the middle spilled it right down the front of her outfit. Wet and sticky, yes, but not red!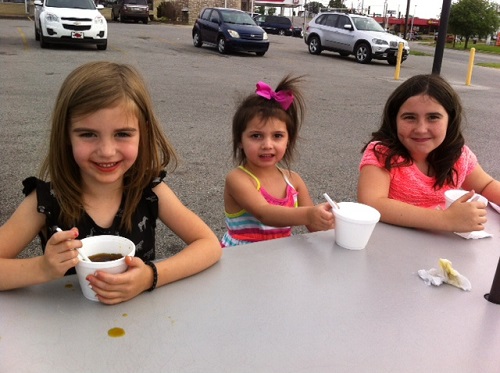 Why don't you join us in eating at as many snow cone stands as possible around NWA?! Here's a short list of recommended stops (updated):
Sam's Sno Cones, northwest corner of Mission and Crossover, Fayetteville
Tropical Sno, Joyce Blvd. (near TJ Maxx) and in Fiesta Square (off College) in Fayetteville
Frozen Tung, Southwest A Street, Bentonville
The Chill Zone, near the Lawrence Plaza Splash Pad, Bentonville
The Frozen Coconut, downtown Rogers off North 2nd Street (across from Harps, near the Rogers Activity Center)
The Sugar Shack at Golf Mountain, 1115 N. Dixieland, Lowell
Shave the Planet, three locations, College Avenue (Hobby Lobby parking lot) Fayetteville; in Jose's parking lot in Springdale (off Sunset, just off I-540); and at the corner of Backus Avenue and Thompson (71b) in Springdale (across from AQ Chicken)
Cam's Mountain Snow, Frisco Station Mall parking lot, Rogers (off Walnut)
Did we miss your favorite? Tell us about it comments so we'll all know where to find it! We'd also love to know your favorite flavor!