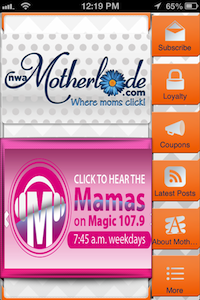 You know how we all buzz around during January trying to get ourselves organized for the New Year? Well, we think the nwaMotherlode app can help you do that. After all, we designed this app specifically for women in Northwest Arkansas. AND…. it's free so it definitely won't mess up any resolutions to save more money this year.
With the help of an amazing local app designer, Jennifer Adair of Adair Mobile Apps, we created the nwaMotherlode app to deliver the best the website has to offer in an easy-to-navigate app that works on iPhone, Android and tablets.
Just search for nwaMotherlode in the Apple app store or Google Play store and then download it for free. Easy peasy.
The app is a great way to read the latest articles on nwaMotherlode.com as well as check what's on the local calendar of events.  You can also browse through the business directory when you're out shopping and need to find specific stores in a certain category. For example, if you're in Fayetteville and you need to find a bakery, just click on the word Fayetteville and a list of all the businesses will appear. Genius, huh?
Here are a few of the other cool tricks the new app can do:
Get the latest articles
Subscribe via email to our newsletter updates
Connect with nwaMotherlode via Facebook, Pinterest and Twitter
Get Mom Prom details and buy tickets
See photos of local kids in our photo gallery
If you like the new app, we'd LOVE it if you'd write a quick review of it so other local moms will know it's awesome. And we hope you'll use the app to stay up to speed with local mama news while you're on the go.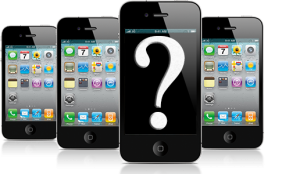 If you have any trouble finding or downloading the new app, please let us know by emailing us at mamas@nwaMotherlode.com.
And if you work for a company that could really benefit from having its own customized app, you should get in touch with Jennifer Adair asap. She is AMAZING, and she has created several apps (for businesses as well as kids educational apps) and has had them approved and accepted into app stores.
Jennifer made the app development process easy and fun for us. Best of all, it was affordable, too, even for a local small business like ours. Thanks again for all your work, Jennifer. You rock!
Contact app developer Jennifer Adair by clicking HERE.