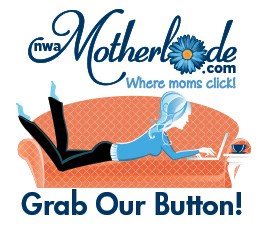 Our "Sites We're Surfing" blogroll got so large, we decided to break it up by category.
The categories may not fit each blog perfectly (because they might cover various topics), but we tried to pick the best description for each. Our blogroll will live here now and we won't have one running down the side of the page.
These are great Northwest Arkansas blogs (and a few from other areas) that we know you'll love reading. If we missed your blog or website, let us know and we'll add it!
We'd also love for us to add nwaMotherlode.com to your blogroll or place our new button on your site (There she is on the right. Isn't she cute?). CLICK HERE to get the code.
So here's our blogroll, broken up into more easily digestible bite-size pieces (just click on the name of the blog to go visit!):
Food Blogs
Family Blogs
Kelly's Korner
The Browns
Kyler and Kady
Linda and the Boys
Mommys Confidential
Mother's Love
Musings of Motherhood
Robinson Family Blog
Ruth the Mom
Sweet Pea Emily
The Brewster Kids
The Chronicles of Wendy
The Hopkins Household
The Park Wife
The Shertzer Kids
The Sparacino Family
The Stein Five
Fashion Blogs
A Blonde Ambition
Ashes of Laughter
The Busy Nothings
Techie Moms
Evolved Mommy
The Techie Mommy
Crafty Moms
Bibs & Cribs
Junque Rethunque
Hilarious Moms
After the Bubbly
The Brokins
To make you think
A Growing Season
Girl Child
Mom Resource Blogs
Arkansas Dept. of Parks & Tourism
Arkansas Women Bloggers
Botanical Garden of the Ozarks
Experience Fayetteville
Flylady
Hope Cancer Resources
National Association of Mothers' Centers
Recalls.gov
Like we said, if you know of a great blog that we should be sharing — or if you'd like us to include yours in the list — just zip us an email!