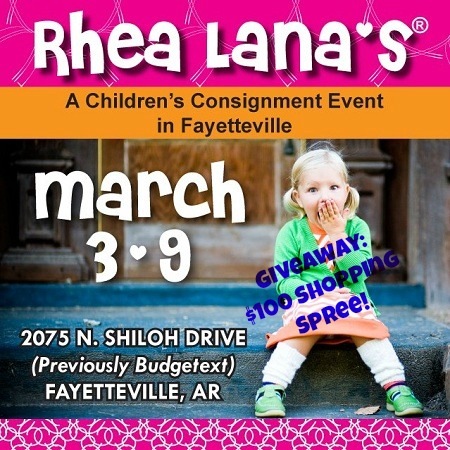 If you've lived in Northwest Arkansas for even a little while, we know you've heard about the semi-annual Rhea Lana Children's Consignment Sale which offers great children's essentials at excellent prices.
If you're new to the area — or  Rhea Lana — it's basically a HUGE sale where moms can find high quality children's clothing, children's furniture, nursery bedding, maternity clothing, nursing accessories, and infant equipment (such as strollers, high chairs, car seats and portable cribs) at consignment prices. They also sell super nice toys, children's books, video games and sports accessories.
And guess what, mamas? We're giving away a $100 gift card to shop the Rhea Lana Spring Sale! Think about how far that $100 will go at Rhea Lana's great consignment prices! (Keep reading to find out how to throw your name in the hat for this giveaway!)
This year's spring sale will be held in a 100,000 square-foot heated warehouse. That's lots of of room to spread out the racks, furniture, equipment, toys and PLENTY of room to shop! It's right off of I-540 and the Porter Road exit. There is also plenty of parking and admission is always free. (Click here to visit the Rhea Lana Facebook page where you'll find sneak peeks of some of the merchandise and clothing that will be available at the sale!)
The Rhea Lana Spring 2013 Event:
March 3-9 (times vary)
2075 N. Shiloh Dr.
Fayetteville
HOW TO ENTER: If you're itching to win this $100 gift card to shop at the upcoming Rhea Lana Children's Consignment Sale, just click on the orange button below and tell us about one of the most impressive deals you've ever snagged at a past Rhea Lana event or about something you'd love to find at the upcoming spring sale.
You can also email your answer to us at giveaways@nwaMotherlode.com. All giveaways winners are always chosen at random so anyone can win.

ABOUT THE RHEA LANA CONSIGNMENT SALE:  This consignment sale has high quality children's clothing, toys, sports equipment, furniture and more. (Click here to visit the website.)
The most popular name brand clothes you'll find at the sale are Gymboree, Ralph Lauren, Hollister, American Eagle, Gap, Tommy Hilfiger, and Nike. The most popular boutique brands to look for are Baby Lulu, Baby Nay, Hanna Andersson, Zutano, Anavini smocked dresses, My Vintage Baby, and Cach Cach.
Rhea Lana's most popular toys are Little Tikes outdoor playgrounds, Racing Car beds, Kitchens, Doll Houses, Tool Benches, Barbie Jeeps, Brio wooden train sets, and American Girl Dolls and accessories. They also carry beautiful nursery furniture and bedding, cradles, car seats, strollers, high chairs, exer-saucers and walkers.
HOW TO INCREASE YOUR ODDS: To increase your odds of winning the $100 gift card, email your friends and family to let them  know about this giveaway. Just be sure to put giveaways@nwaMotherlode.com on the CC line of your note so we can give you proper credit.
BE SOCIAL: Spread the word via social media and we'll give you extra chances as well. Just share the giveaway with your friends on Facebook (click here to go see the post on our Facebook page and share from there) or share about the giveaway on Twitter to increase your odds of winning. If you do either of these things, just let us know in your posted comment or send us an email so we can give you proper credit.
Good luck and we'll see you at the Rhea Lana's Consignment Sale!