By Rhonda Moulder, stylist and mama of 2
Sometimes my clients who are busy mamas of little girls ask me for tips about cute hair-braiding techniques they can try out on their little ones — especially when they're sick of the same old ponytail. The good news here is that the World Wide Web is FULL of great video tutorials that can teach you everything from the most basic braid to some very intricate, amazing braided hairstyles.
If there's a certain type of braid (French, fishtail, Dutch, etc.) that you'd like to learn how to do, you can either go to YouTube and type in that name or you can go to any of the popular hairstyle sites that specialize in teaching you how to master these techniques. I like a site called Cute Girls Hairstyles because it features a mom working her hair magic on her own daughters and it covers a wide variety of styles. She also teaches mamas a thing or two about cute ways to style your own hair. Cute Girls Hairstyles has more than a half a million subscribers on YouTube.
Here's one of their videos that was filmed when the Mom was away, so Daddy had to fill in and fix the girls' hair. It is hilarious! But the guy did a great job and this is a neat little trick for pulling the hair back and getting it out of your daughter's face. In this "Daddy Do" video below, he teaches us how to do a pull-back into a square knot. Enjoy!
The holidays are a great time to try out some new hair techniques on your daughters, so watch a few videos and start practicing!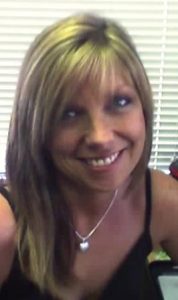 Rhonda Moulder, pictured right, is a mama to two beautiful daughters and is also a stylist in Bentonville at Studio 28 Salon. E-mail her a hair question at mamas@nwaMotherlode.com or call for an appointment at 479-270-4480. Have a happy hair day.