Time to serve up a steaming hot dish of Good Gossip – the only guilt-free celebrity news column in Northwest Arkansas. We strip out all the nasty half-truths and give you only the good stuff. This delicious post is sponsored by Great Day Farms, a national brand based right here in NWA.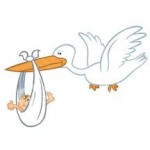 The amazing Adele has joined the mama club! She gave birth to her first child on October 19, 2012 — a baby boy — with boyfriend Simon Konecki. Don't wait around for pictures of the newborn to appear in magazines, however. Sources say Adele feels that this is an intensely private time and won't be showing the baby off anytime soon. No one knows for sure yet, but she may take a year off from performing so she can be with the new baby. Congrats to the new parents!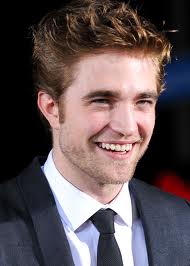 Okay, we can't help ourselves. We're happy that our favorite two vampires seem to have patched things up, just in time for the final Twilight movie. (Breaking Dawn Part 2 will hit theaters on November 12, 2012.) According to a recent report in People magazine, Kristen Stewart and Robert Pattinson were recently spotted out together in Los Angeles and were even photographed smooching. Although Kristen moved out of the house they once shared, she recently purchased a new one less than two miles away from Rob's house. Perhaps we'll all finally see them together again when they hit the red carpet for the official movie premiere.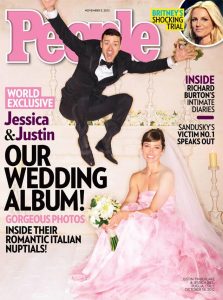 If you're a sucker for a wedding, you should definitely pick up a copy of the November 5th edition of People magazine, which is chock full of gorgeous photos from the wedding of Justin Timberlake and Jessica Biel in Italy. We tend to like traditional wedding gowns, but we have to say we LOVE that petal pink gown that Jessica wore for her big day. Her bridesmaids wore white and she looked stunning in that ultra feminine pink gown that still had a very traditional shape and elegant feel. He didn't look too shabby, either.
And he scores BIG points for writing an original song for his bride so that he could "sing her down the aisle." Very cool. Some of the celeb guests included Jimmy Fallon, Andy Samberg, Timbaland and Beverley Mitchell. At the reception, the newlyweds were the last ones on the dance floor at 5 a.m. If you pick up a copy of the magazine, check out that last photo of Justin kissing Jessica on the cheek. That shot is our favorite. So, so sweet.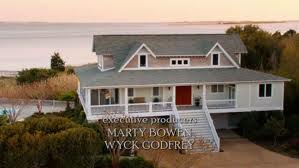 Do you watch the show Revenge? If you do, you've seen that beautiful beach house that the main character, Emily Thorne, lives in. Well the actual house is up for sale now and it has a price tag of $1.57 million, but get this — it's not actually in the Hamptons! It's located in Southport, North Carolina. It comes with its own private pier and pool.
Source: People magazine, October 22nd and November 5, 2012 editions

Good Gossip is sponsored by CCF Brands, a Northwest Arkansas company which makes Great Day All Natural Eggs. These eggs are produced by happy hens who are fed premium vegetarian diets with no animal fats, animal by-products, or antibiotics. Great Day Farms also offers hard-boiled eggs, which you can find in the deli section of the Walmart Supercenter. (Love the hard-boiled eggs because they're peeled and ready to eat! Perfect in salads.)