Add the Ciao! Baby portable high chair to the list of products I wish had been available when my daughter was small.
I stopped by a friend's house recently and she was using this awesome high chair (below) which she first saw on Pinterest. (Is there no end to Pinterest's inspiration?) This "go-anywhere-high-chair" seems like such a great option for when you're not eating at home — restaurants, camping, beach, visiting friends. It's light-weight, easy to fold and has an attached tray that requires no assembly. Love it!
You can only buy it online (click here) and it's only been out for a few months.
We also like that a mom designed the chair (of course!) and that she's been totally surprised by its popularity. Here's a story we found about her.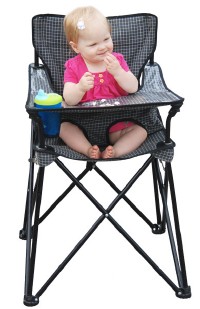 Just wanted to share! Happy Shopping!