We love it when practical meets pretty! And these new Prana dresses at Fleet Feet Sports in Fayetteville are the perfect combo of pretty and practical because they're made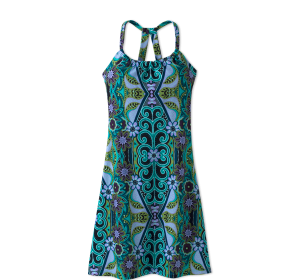 of performance fabric which means they'll be forgiving even in intense summer heat and the cut and fabric are designed to move with you.
Some moms abandon dresses altogether when they're chasing after active kids, but this is the kind of dress that's perfect for a mom who has to be quick on her feet to keep up with toddlers or lightning-fast preschoolers in the park. And look how cute it is!
You could wear it to play in the front yard, to lunch with a friend or out on a dinner date with the hubby. Love this dress. It'll be perfect with summer wedges, strappy sandals and flip-flops, too.
While you're shopping for a cute summer dress, be sure to also check out the sale on Fleet Feet's socks. Now through June 17th, you can get Thorlo Experia socks in a "buy one get one half-off" deal. If you're one of those people who thinks that "socks are socks", then trust us when we tell you some socks truly are different. These Thorlo socks are amazing and, if you don't believe it, then Google a few of their customer reviews. That ought to convince you.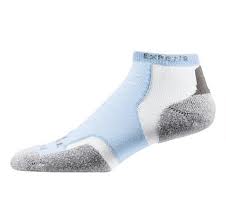 Here's a picture of the Thorlo socks on sale, so you'll know what to look for when you're out shopping. But don't worry because the people at Fleet Feet are big on customer service, which means someone WILL be sure to ask if you need anything specific and make sure you find what you're looking for. (We hate wandering around a store where no one seems to care if you're there or not. Fleet Feet does NOT disappoint when it comes to personal attention.)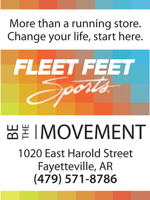 Remember, too, that you can get your kids some great athletic shoes while you're at Fleet Feet, and you'll have lots of help making sure that they are fitted properly. These guys take shoe fit seriously and have turned it into a science. You'll see what we mean when you get there and meet the fit specialists who work at Fleet Feet. For more info on the sale or the new dresses, call Fleet Feet Sports at 479-571-8786, or swing by the store in Fayetteville. Click here for directions. Enjoy and happy shopping!