Dear Fashion Fairy Godmother,
I keep hearing about the trend of wearing red jeans and I think it would be fun to buy a pair. Unfortunately, I'm not sure what I'd wear with them! What would you suggest to go with a colored jean?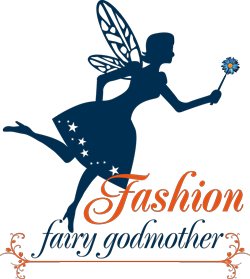 Dear Color Concerned,
Colored jeans are a trend I couldn't be more excited about! You get the comfort of a jean with the fun of color — what could be better than that?
As far as what to wear with them, your options are truly endless. With this season's color blocking trend, you could wear pink, purple, green, blue, yellow, or orange…seriously!
Here are a few of my favorites.
This great navy top would look perfect with red denim. The texture adds a bit of sophistication. Add a grey cardigan in fall or winter, and wear it  just with the denim in spring. This would look great with a pair of nude flats…or green, if you want to join the fun of the color blocking trend.
Another great pairing would be this top that does color blocking for you! For those a little more hesitant about wearing skinny jeans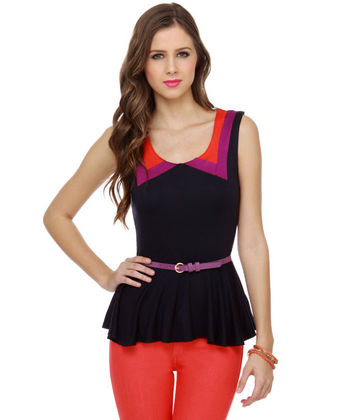 (which most red denim tends to be!) the belt and cinched waist will elongate you as well. Plus, black is always slimming.
For those looking for an even more toned-down option, you could go with a simple white top. The button details on this top from Maude give it something special. Although, you can ALWAYS stick a plain white or grey tee with red denim and add a floral print or cheetah scarf for a little flair.
Cheetah is always a fun print to pair with any color, too…especially red! This top has such a lovely cheetah print–it's a bit muted which makes it more elegant. Just wear a nude or cream cami underneath and you'll be all set!
If you are going for a sweeter look, this top paired with red jeans would be perfect. The red buttons, the polka dots…I'm not sure you could get any more adorable!
As far as where to get skinny jeans, Maude is getting in this style pictured on the right, in the "engine red" color in February!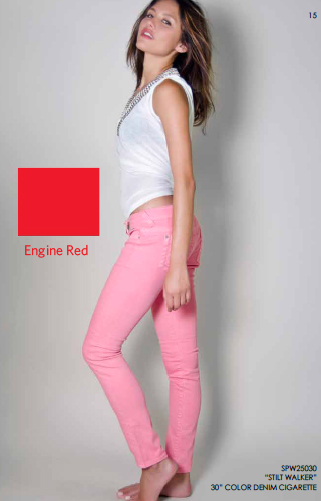 In other words–go for the red denim! You really can wear anything with them, which makes them a must-have piece for any wardrobe!
All items pictured above are available locally from Maude Boutique in Fayetteville. Visit facebook.com/maude.shoppe or call 479.935.4700 if interested in any items listed. If you don't see anything you love, feel free to stop in and let us help you find something you love.
xoxo,
Jena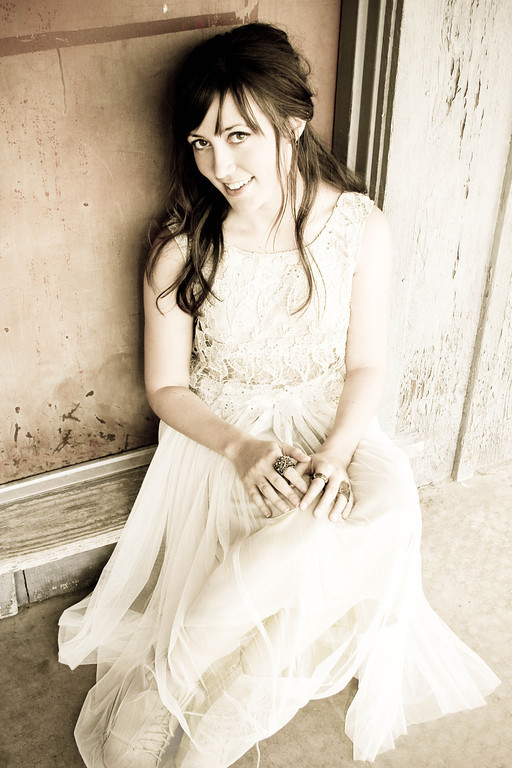 Jena is the marketing manager at Maude Boutique. When she's not uploading new arrivals to Facebook or blogging about fashion on Maude's blog, she's busy blogging with her gal pal Annye about navigating your 20s on their blog, Smith & Emma.