If you're like us, you're eager to get the shopping DONE for Christmas so you can focus on getting things wrapped and then slowing down a bit to enjoy the holiday with your family. But there are always one or two people on our lists who are difficult to buy for, which is why we need some gift inspiration from shop owners who know the trends and understand what's popular with shoppers this year. We asked Rebecca Courtney and Jeanene Eberhart, co-owners of Blue Moon on the Square, to tell us about a few of their favorite gift items in the store this month. (You can see all these items in person at the store in downtown Bentonville.)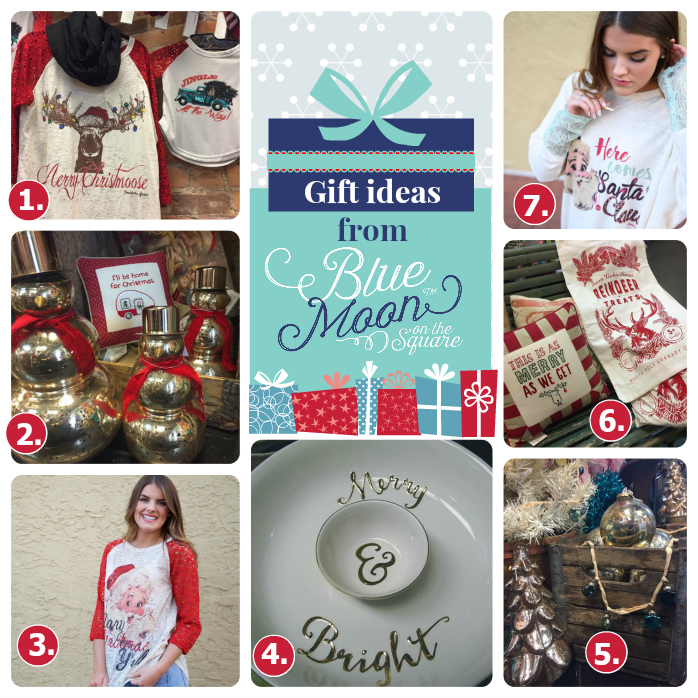 1. "Christmoose" and Kids' Tees: This distressed and super-soft "Christmoose" shirt has lacy long sleeves, and it would be a great "on-trend" gift. (If you're like us, you might want to give this to yourself so you can wear it to a casual party or family get-together. If you have a little one in tow, you might consider getting the similar version of this tee in the kids' size. This one says "Jingle All the Way." Adorable. Christmas tees range in price from $30 to $45.
2. Metallic Snowmen: Metals are huge this year in home decor. We're seeing them used in so many different holiday arrangements, and we love how this group of three snowmen are wearing bright red scarves, which softens up the look and makes it cozy. Giving a home decor gift is great because people tend to remember the gift giver every time they decorate for the holidays. Cost ranges from $30 to $68, depending on size.
3. Vintage Santa Tee with Lace: We saw this shirt in person a few weeks ago and fell in love with it. The vintage illustration of Santa is timeless and the lace sleeves are a nod to one of this year's biggest fashion trends. Notice that the "Merry Christmas, Ya'll" greeting makes this gift perfect for a Southern girl. Christmas tees range in price from $30 to $45.
4. Merry & Bright Platter: A party or family gathering is SO much more merry and bright when great food is involved, so we're loving this big platter with gold typography. We love the clever design of this set, with the ampersand in the dip bowl. So pretty yet classic, too. Cost is $45.
5. Metallic Accents: As we mentioned above, metallic accents mixed in with home decor are huge this season. This tree and ornament would make a great gift with some extra holiday shine.
6. Pillows and more: Balance out metallic accents with something soft like a fun throw pillow. This one says "This is as merry as we get," and it's as funny as it is cute. Pillows range from $28 to $40, and the cute Reindeer Treat Sack is only $15.
7. Here Comes Santa Tee with Lace: Like the other tees mentioned above, this "Here Comes Santa" Tee features lace details (at the wrists), and we really love the unusual color scheme on this one. This pale mint color is unexpected and gives this shirt a more feminine feel.
For more gift inspiration, swing by Blue Moon on the Square in Downtown Bentonville and take a friend! It's such a fun shop to browse through and try things on. We also found so many cute gift items that we hadn't seen in other stores, and many of the options are available for under $20.
The shop is located at 113 N. Main St., on the same side of the Square as the Walmart museum. The storefront looks like something out of a storybook. SO cute. Check out the photo below. If you have questions about any of the items here, you can call the store at 479-657-6723.
If you missed last month's fashion article and still have a few Christmas (or New Year's Eve) parties to attend this month, click HERE to see some of the cute holiday party outfits we featured.
The shop is open 10 a.m. to 7 p.m. Monday through Friday; 9 a.m. to 7 p.m. on Saturdays; and 1 p.m. to 5 p.m. on Sundays.
If you want to keep up with the store's newest arrivals, follow them on Facebook. Of course, you can shop anytime from the Blue Moon on the Square website by clicking HERE.
Save
Save
Save
Save
Save
Save
Save
Save
Save
Save
Save
Save
Save
Save
Save
Save
Save
Save
Save
Save
Save
Save
Save
Save
Save