In October, our Fashion Fairy Godmother helped you with outfit inspiration for Razorback Game Day, and then in November she talked about clothes for Date Night. Now it's the time of year to make sure you've got something amazing in your closet to wear to a holiday party. Here are some beautiful choices (that won't break the holiday budget) that we spotted at Blue Moon on the Square in Bentonville. (Click on the name of each item below to see it up close, or — better yet — go by the store and try it on!) Happy shopping!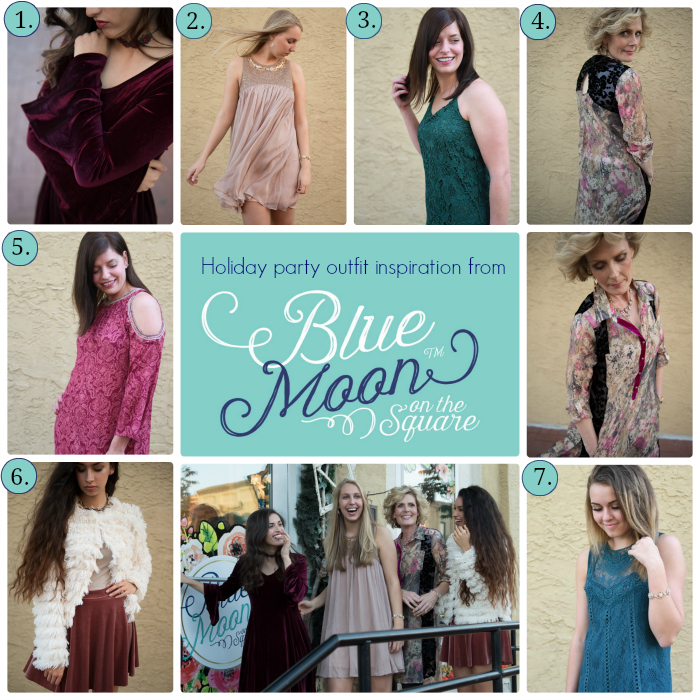 1. Wine Bell Sleeve Velvet Dress: In case you haven't noticed, velvet is SO big this season, and this wine color is perfect for a holiday party. We especially like the sweetheart neckline on this dress and the way the flares make the skirt fall perfectly. This dress looks so much more expensive than its $60 price tag.
2. Sequin Swing Dress: Sometimes a girl needs a little sparkle! That's where this swing dress comes in, with its baby-doll styling and its sheer, flirty fabric and its sequins and beading. Wear it to a Christmas party or save it for a fun New Year's Eve bash. It's fully-lined and costs only $56!
3. Sleeveless Floral Crochet Lace Dress: The floral and leaf design in deep forest green makes this a great choice for a holiday party. The back of the dress has a halter style that closes with a keyhole back hook and eye closure. The hemline is edged in lace which will help show off a great pair of legs. Cost is only $46.
4. Dark Floral Flirt Tunic: If you don't want to wear a dress but still want to look ultra feminine and dressy, this long floral tunic with magenta velveteen trim is perfect. It has six carved metal buttons and black lace burnout floral insets along the sides and on the back yoke (which also has a keyhole opening). Everything about it feels like Old-World romance. Cost is $110.
5. Cold Shoulder Raspberry Beaded Dress: We love the tiny bronze beads and the delicate embroidery around the jewel neckline and shoulder cut-outs of this pretty dress. In the back, it closes with two raspberry-colored buttons above a small keyhole opening. Cost is only $56!
6. Velvet Skater Skirt and Cream Fur Jacket: We love both of these pieces! The Velvet Skater Skirt is rose gold, which has become one of the hottest colors of the season. It looks so good paired with the long-sleeved Cream Fur Jacket, which would keep you warm as you head to and from holiday parties this year. The skirt is only $46, and the glam jacket is $54.
7. Deep Teal All Lace Shift Dress: This dress is all lace with crocheted lace insets. We like the strips that run in vertical lines down the dress as well as the detailed inset at the bodice. This classically-styled dress is so feminine and made of mostly cotton, which means it's soft and comfy, too. Cost is $44.
Hope you look and feel amazing at this year's holiday parties! For more Holiday Party clothes inspiration, swing by Blue Moon on the Square in Downtown Bentonville and take a friend! Shannon and I had a great time putting together outfits while we were there. (It's at 113 N. Main St., on the same side of the Square as the Walmart museum. The storefront looks like something out of a storybook. SO cute. Check out the photo below.) If you have questions about any of the items here, you can call the store at 479-657-6723.
The shop is open 10 a.m. to 7 p.m. Monday through Friday; 9 a.m. to 7 p.m. on Saturdays; and 1 p.m. to 5 p.m. on Sundays.
If you want to keep up with the store's newest arrivals, follow them on Facebook. Of course, you can shop anytime from the Blue Moon on the Square website by clicking HERE.