Guest post by Heidi Clark, blogger @TheBusyNothings
We've all been there. The week has been long, the day has been even longer, every hour counted down, the minutes ticking by as you watch the clock PRAYING that it will speed up.
Then, the world shifts into fast forward and suddenly you stand in your closet, spanx hoisted up, sweating and hollering directions to the husband to tell the babysitter. You have no idea what to wear because you are completely broke trying to keep the fastest growing kids EVER in stylish clothes, finish paying off student loans and save up for a retirement that seems like a glorious dream right about now…
You push aside the khaki sweater you kept from college because it's a good neutral and it's from Gap DANGGIT, past the trouser pants because you want to be sexy, but like, mom sexy… and then hubs is at the closet door asking what is taking so long and you want to scream because you have nothing to wear and he just doesn't get it and …
Yeah… I'm a mess!
My husband lost his job this spring and although he was fortunate enough to find another one, it pays much less. Shifting down a pay bracket or two was hard. But in the midst of all the challenges came a surprise- I found fashion in places I'd never looked and learned how to accessorize with nothing.
I could go ON and ON but I decided for this post to talk about my top 5 Night Out Tips where you can reorganize that un-stylish closet, buy a few basics, up-cycle some things and learn to accessorize:
Dresses. Re-purpose summer dresses. I don't really have much of a choice now in making my wardrobe multi-seasonal and I've learned some tricks. Layer a long sleeved sweater and throw on some some boots. Sweaters that have been overlooked may look great over a summer dress- from tight fitted to chunky ones- pull everything out and explore your options. Having darker, neutral colored sweaters that can go with any color dress is a must have in any closet!  It's amazing how that khaki sweater from college suddenly finds new life over a cute summer dress, tights, boots and a fabric flower pin you bought at the craft fair…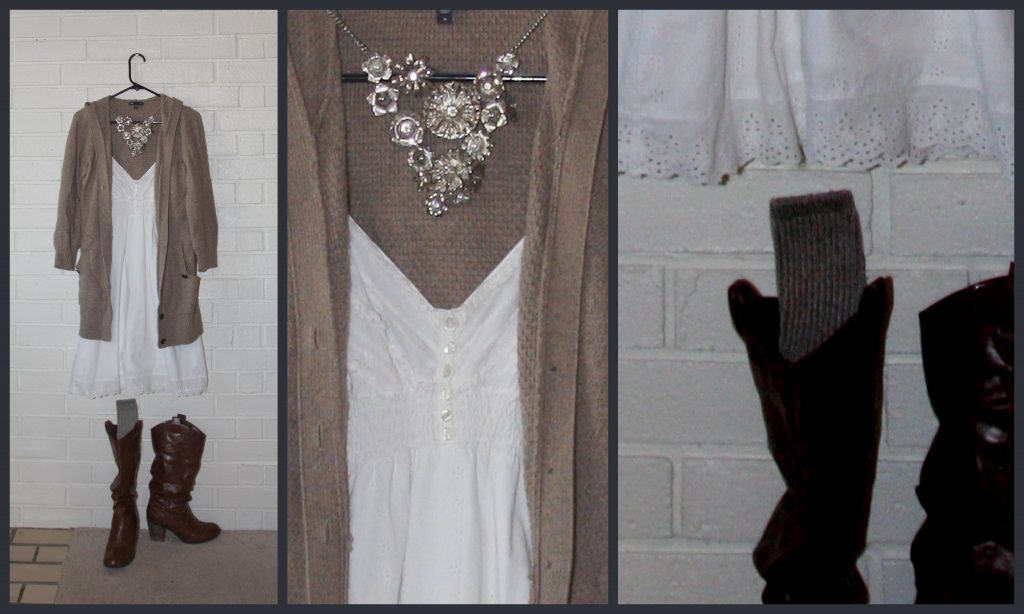 Belts. Use 'em with baggy dresses. Like, the Old Navy dress from 2004 that you keep meaning to send to charity or the fancy knee-length bridesmaid dress… pull it out and re-examine them.  As long as you are using a belt, for the most part it doesn't matter what it looks like. I mean, within reason.
Style is so versatile right now and adding a personal accessory like a belt, sweater and a cute necklace that you already own brings style current quickly yet still reflects your individuality. The belt doesn't have to look a certain way, or be at a certain place on your waist- wear what is comfortable and fits. (I've had 2 c-sections so my belt is high on my waist to minimize the baby pooch!)
If it's a very fancy dress, use a casual sweater to calm it down. For a casual dress that isn't very stylish- wear a more current sweater. It's not about the dress as much as it's about the things you put with it to make it your style. And wear it with confidence!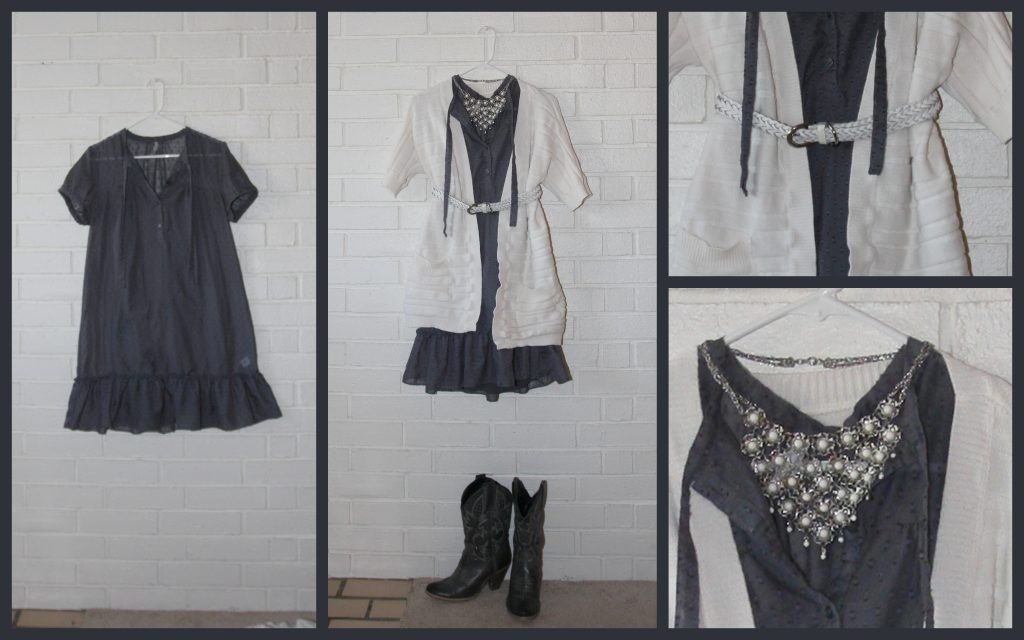 Shoes. Every girl's love… Try not to gasp here but I've had a LOT OF LUCK at garage sales over the summer! I got a brand new pair of  ankle high cowboy boots, a pair of new Jimmy Choos and a pair of casual tennis shoes for a few dollars. Shopping in thrift stores can be very rewarding, it's like winning the lottery when you get something! Taking the time can be a pain but it's worth it- look in places you have overlooked in the past for inexpensive, quality items.
I LOVE boots so 99% of my winter wardrobe revolves around them. The basics in my closet are a pair of brown cowboy boots, a brown pair of riding boots, a grey pair of grey cowboy boots that makes my heart happy and a pair of black, flat boots. I was able to spend very little and yet have boots to match any outfit. I found boots that I liked and that I knew I'd wear all the time and my most expensive pair was under $60!  If you aren't a boot person, Toms shoes or other colorful flats are a cute, instant style making option. These are a little more trendy, but throwing in some trendy with the classic changes up your style! I have a few pairs of heels but during the winter I pretty much go with boots or flats.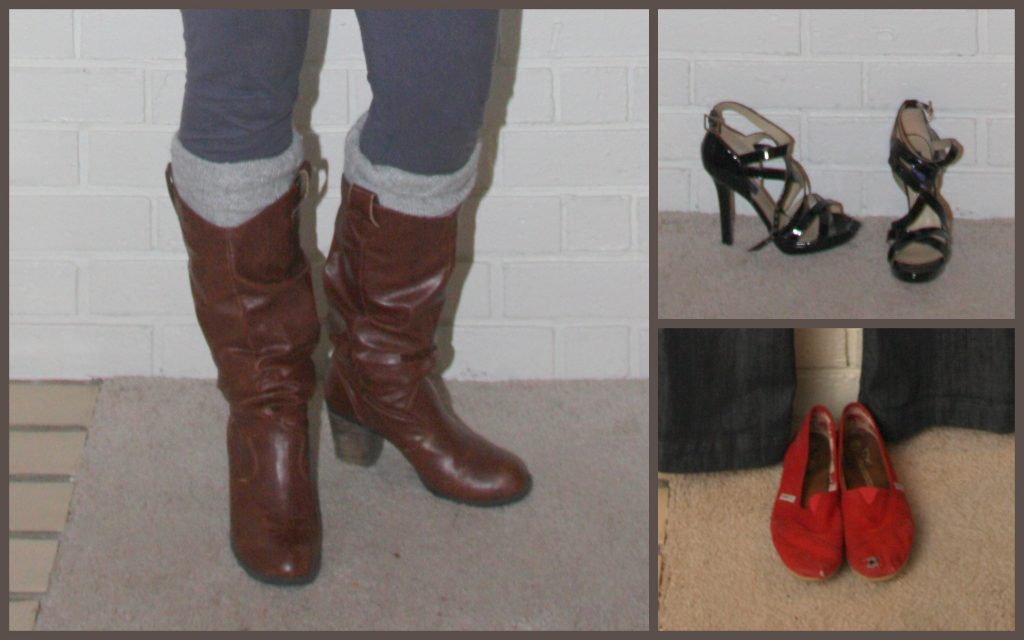 Accessories. For a few dollars you can cheaply update the whole look of your outfit. I have 2 necklaces that are sentimental to me that I regularly wear and then for a date night I have  necklaces from Target and Charlotte Russe that are trendy, noticed and complimented on and cost under $10 each.
People don't see my sharpie polished black heels I had to buy for a wedding 3 years ago when blinded by cheap twisted metal and plastic jewels!!! I do the same with scarfs, they easily change the whole look of an outfit. Since I buy such basic colored clothing I really have fun with colorful scarfs, head bands and knit hats in the winter. Finding little accessories that fit your personalty and style make a huge difference overall. Don't be afraid to be creative and step out of your comfort zone a little bit.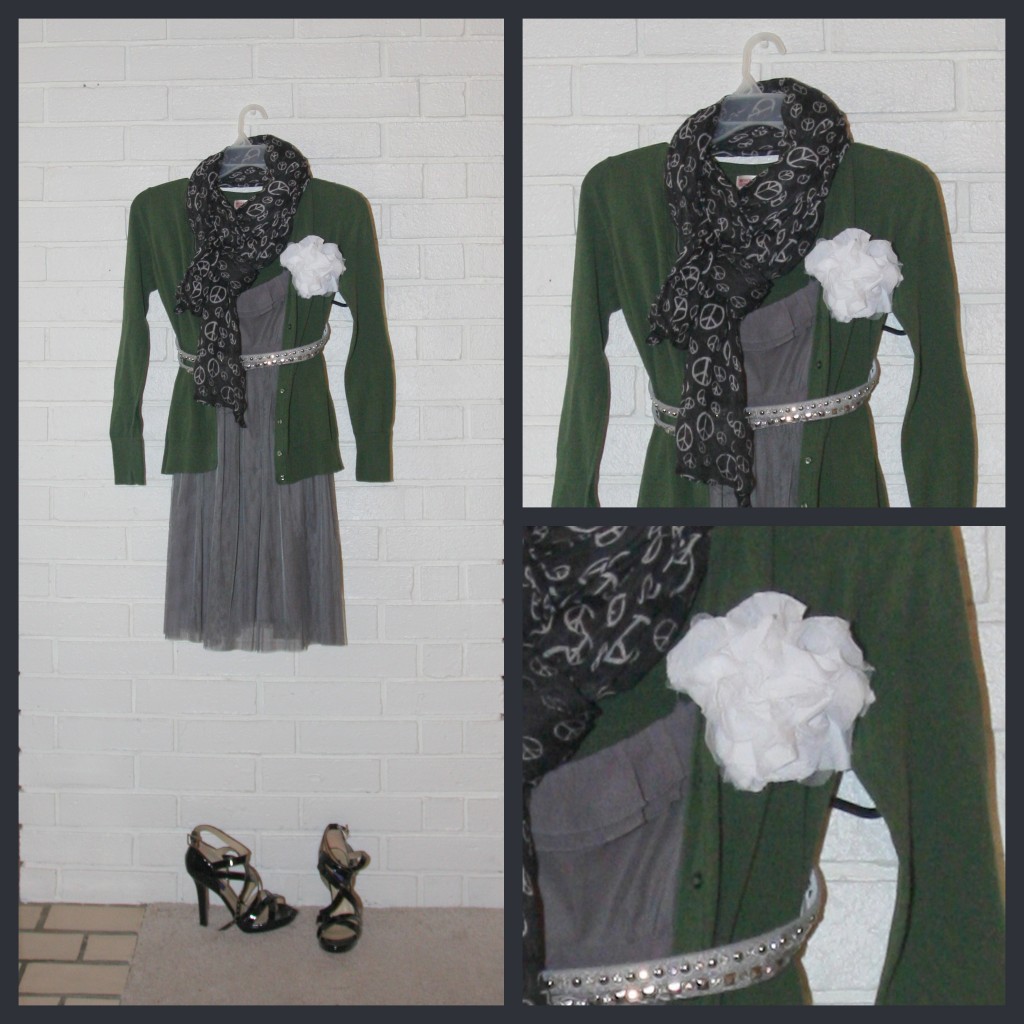 Pants. Jeans are ok. mostly.  I know this sounds OBVIOUS, but if you want jeans- wear them, don't get dressed up and then feel uncomfortable the whole time on a date night. Boot cut, skinny or trouser… just get them to FIT YOUR BODY. (no muffin top!) Which doesn't mean you have to spend more necessarily.
I have 2 favorite jeans, the first pair was $15 from Forever 21 and the second pair was a thrift store find. Tights and jeggings are other options… especially when your shirt or dress covers your behind.  I love pairing a long tunic shirt- or in my case, re-purposed maternity shirts that look fine under a sweater- with tights or jeggings for a comfie night out when I know I'll be having dessert!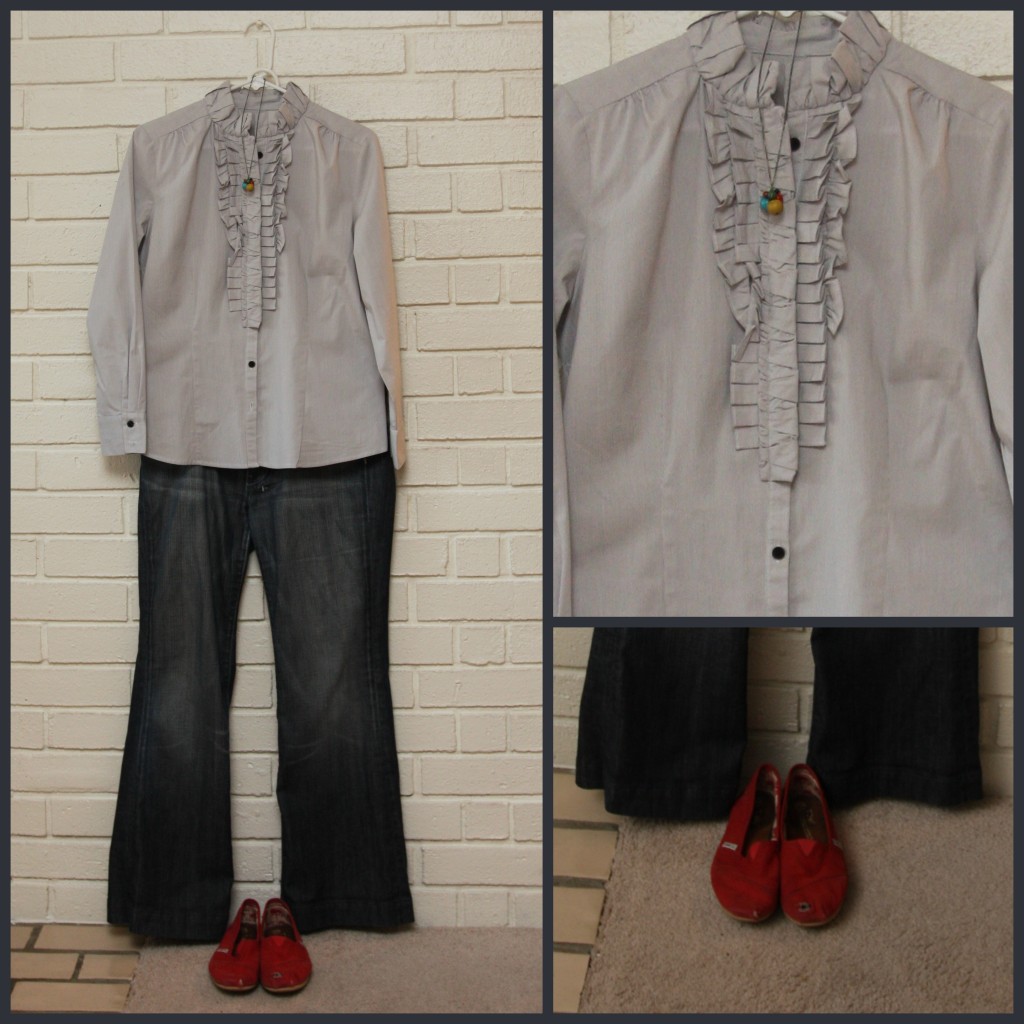 If you haven't picked up on it, I have found that accessorizing is the most important part of style. When all I spend is quarters on clothes that aren't from my college and maternity wear wardrobe, (with a few splurges on basics,) I had to figure it out! Also, I only buy non-wrinkling cotton. I don't have time to iron! Putting a great outfit together is like making a delicious recipe! Have fun expressing yourself with clothing you already own, while being trendy with inexpensive little splashes here and there.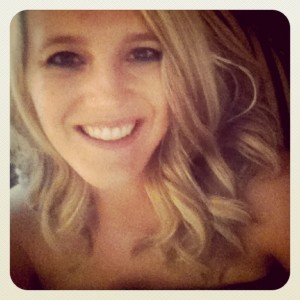 About Heidi: I'm Heidi, I'm passionate about my boys, being real, cooking gluten-free, fashion from thrift stores and DIY projects. I manage social media, decorate and free-lance write in my spare time. Click HERE to visit Heidi's blog, The Busy Nothings.