By Shannon Magsam
At one particular Christmas party I attend every year, there's always one gift that's always sure to get "stolen" over and over again during a rousing game of Dirty Santa. And that one gift is always from So Inviting.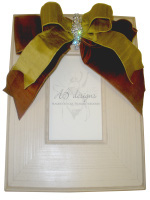 So Inviting (in the Fiesta Square shopping center) just celebrated its fifth anniversary in Fayetteville and always stocks great specialty gifts, beautiful home decor and unique invitations.
I stopped by recently to see if I could stir up some good Christmas gift ideas and wasn't disappointed. I really love these brand new — and gorgeous — brooch-embellished picture frames (pictured right). So Inviting Owner Carolyn Srygley said people have been buying them for mothers or mothers-in-law — with a pictures of the grandkids included, of course.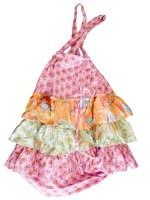 I also gravitated toward this cute duffel bag (pictured left) which is very similar to some of the frilly, very feminine aprons the store has in stock right now. I'm not the best cook, but I always enjoy wearing a really nice apron while puttering around the kitchen. One of my favorite things is a retro, red-checked apron that my grandmother passed down to me.
For new mothers, the store also has Peanut Shell baby slings, Miracle Blankets (which I've heard new mother friends say are amazingly helpful with calming their brand new babies) as well as some pacifiers that are so blinged out you can't help but smile when you see them.
There are also Scout totes, which are water-resistant, collapsible and just downright convenient to help organize the trunk or car.
The great gift list could go on, but I'll encourage you to stop by the store yourself and see what treasures you can find. You're so invited!
Visit the store at 3067 N. College Ave. (Fiesta Square) in Fayetteville, call Carolyn at 479-587-1800 or visit their website at www.so-inviting.com.